As a head and corporate chef for so many years, I had the best opportunities to cater to many heads of state, world leaders and dignitaries. The one I remember the most among them is former British prime minister John Major.
When a head of state arrives, everyone in the hotel goes head over heels. From the general manager to the security head, everyone works overtime to ensure the visit goes off smoothly. Before Major's visit, we had a series of internal meetings with the senior management and then with almost everyone at the British Deputy High Commission. We had to find out the likes and dislikes of the prime minister.
Generally, it is taken for granted that the preferences would be given in writing. But in Major's case, we were told that he wanted Indian food, and we could experiment the way we wanted to.
It was a challenging situation. One, he is a head of state. Two, he is from the UK, a curry capital. Three, too many people were offering too many opinions. South Indian meal, suggested one. Local Mumbai fare, said another. It was a big list. Well, the saying 'Too many cooks spoil the broth' is so apt. I have always said in life: 'I do not know how to fly a plane, so better leave the job to the pilot.'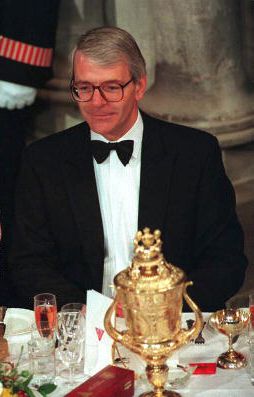 After a lot of contemplation, keeping all the guests in mind, I finalised a menu. We did trials for ensuring the right quality, consistency, presentation and food temperature.
The other things one has to be careful about during state dinners are protocols and the timings. In most cases, they allot 55 minutes to 1 hour and 15 minutes for a four-course meal. The planning and service have to be immaculate. One just cannot afford to take chances, especially in India, where one never knows the number of vegetarian guests and the NGOs ('No garlic, onion' guests). Then some of our good vegan guests turn into meat eaters over one course. Trust me, you get them all at the same time.
For Major, the first course was a roasted almond and pistachio soup, followed by a kebab assortment. Then came the main course—we had made a delicious, slow-cooked lamb curry, flavoured with saffron and cardamom, served with saffron pulao, vegetables and a delicately tempered yellow dal.
I went to the banquet room to check if Major was enjoying the food. Suddenly, I was called to the head table and the prime minister asked me if he could get a second helping of the lamb curry and rice. I was overjoyed. What else could have been a bigger compliment for a chef like me? Major said he thoroughly enjoyed the food and we had a photo session with him.
After a week or so, we got a call from the British High commission, saying that 10 Downing Street inquired whether the same lamb curry could be made at Bombay Brasserie in London. I immediately sent them the recipe. Slowly, it became popular and came to be known as John Major curry. When people ask me what was so different about the preparation, I tell them it was not a "curry in a hurry which is my biggest worry".