No one can change destiny—whatever is written will happen. While growing up, I always thought what was the big deal about destiny. Study well and work hard, you will be successful. But later, I had plenty of instances in my life which proved me wrong.
I was 11 years old when my father was posted in Firozepur, on the border with Pakistan, in 1965. One morning, suddenly there was loud firing sound from the border. My dad said war had started. I used to go out every morning to fetch fresh milk. That morning also I left the house and suddenly a fighter plane started bombing. My dad ran after me and asked me to lie down. While we were on the ground, a bomb exploded about 100 yards away. Another bomb fell on a rickshaw which was taking a family to the railway station and killed all of them.
My parents wanted me to become a doctor. I went to study pre-medicals but did not score enough to get a medical seat. At that time, I did not know about a new university in Punjab and my classmates who got fewer marks than me got seats there. Though disappointed, I did not give up and appeared for the UPSC examination. Becoming an Army officer was my second choice. I landed in Bengaluru for the final written test and physical. The first day, I appeared for the written tests and was running a high fever. I struggled to get up in the morning but went for the physical test. I could not complete even two of the ten hurdles. Dejected, I did not want to show my face to anyone.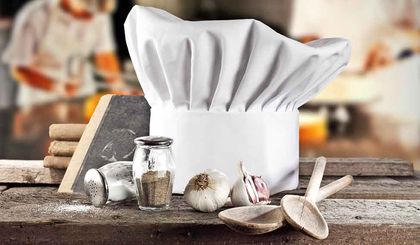 Then my sister asked me if I wanted to attempt a hotel management exam. I hesitantly appeared for it, as there seemed to be not many options. I got through the written exam and interview, and destiny brought me to a totally different field. However, even in my wildest dreams, I had not thought of becoming a chef until the final placement interviews when the head of the cookery department suggested I should opt for the chef's job because I cooked well. I did that for Oberoi Hotels and got through, but I was given a letter without my surname. I rejected the offer. Next was the Taj interview, and I was selected and landed in Mumbai.
In 1977, I was asked to head a team to Kuwait for a new project at the airport, but in a week was asked to move to Oman. The head chef of Oman was moved to Kuwait. The Kuwait project was terminated after six months and everyone returned home. If I was there, I, too, would have; but my destiny had different plans.
And, on 26/11, my faith was reinforced when three times we escaped death. It was a touch-and-go kind of situation and probably bullets were not meant for me that day. So, destiny plays a crucial role and no one can change it. We cannot take someone else's and no one can take away ours. That, however, does not mean we should give up hard work, passion and perseverance.