No one could have predicted the storm a cup of tea has unleashed in the 21st century. From chai pe charcha (discussion over tea), it has become chai pe kharcha (spending on tea). High tea, English high tea, Japanese tea party, Asian high tea, Indian high tea; tea has taken the world by storm. Tea growers are finding innovative methods of packaging and flavouring, and companies have hired tea sommeliers. Also, pairing tea with food has become a trend. One wonders why. Tea, or rather chai, has always been part of Indian society. In fact, it is our staple beverage and an energy booster for most people. We gave the world masala chai and even the word chai. Still, the British per capita tea consumption of tea is higher than ours. The entire world seems to be high on tea and the beverage is being marketed for its health benefits, flavour and rareness. It is being projected as a antioxidant, a stress reliever and a cholesterol-free beverage. Its medicinal values are also being highlighted by producers.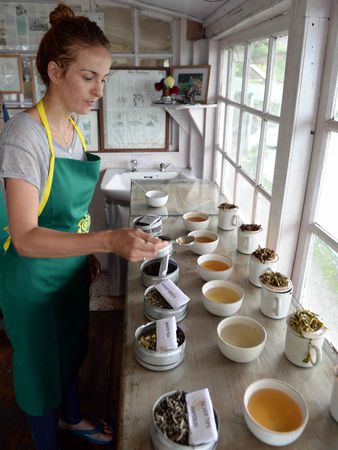 The fragrant, delicate varieties of tea are also making waves. Da Hong Pao, an 18th century tea, is the most expensive and can sell at $1.25 million a kilo. It is believed that the mother of a Ming emperor was cured of an illness by this tea, and it soon became a national treasure. Its rich floral taste lingers in the mouth for quite a while. The Wuyi oolong tea is priced at $6,500 a kilo and the yellow gold tea buds are sold at $3,000 a kilo. Available only in Singapore, the tea leaves are painted with real gold and are plucked with gold scissors from the most tender part of the plant.
The Tieguanyin tea, sold at $3,000 a kilo, can be brewed seven times without losing its character and aroma. It brings together the five senses of sight, sound (you hear the crispness when you touch it), smell, taste and touch. Panda tea, sold at nearly $200 a cup, is fertilised by panda dung and is available only in the Ya'an mountains in Sichuan, China. Guokuro is a Japanese green tea that is sold at $650 a kilo. PG tips diamond tea bags, each of which contains 280 diamonds, are sold at $11,000 a bag. The tea leaves come from Makaibari in Darjeeling.
The Tienchi flower tea, supposed to be a cure for all diseases, is sold at $170 a tea bag. Pu-erh, again a healthy tea, is produced in the Yunnan province of China. Silver Tips, an imperial tea from Makaibari, is sold at $400 a kilo and is considered one of the finest aromatic varieties of tea in the world.
A good high tea, accompanied by western and Asian goodies, has become a trend, and every good hotel is trying to capitalise on it. They offer you varieties of tea brewed in different kinds of tea pots. High tea themes are in vogue for weddings, especially to welcome the baraat (groom's party), and a lot of money is spent on it. An array of savouries and sweets are also being created to go with the themes. I personally did various high tea themes, including citrus high tea, rose high tea, chai library and 3C (cinnamon, chai and chocolate), all to give our customers that unique, satisfying clink.