My first experience of electoral politics came 15 years ago, when I was voted in as president of The Dalhousie Institute at the relatively young age of 39. DI is our family club and it has been my second home since childhood. Its tennis courts (where I met my wife for the first time), its quizzes, every item on its menu—I have done it all.
Being elected club president and running the club, helping revamp it actually, which is what the uncles and aunties wanted us (then) younger folk to do, was both an ordeal and extremely rewarding. I think we succeeded, but not without battles. Among my biggest achievements as president was to convene an extraordinary general meeting (EGM) that gave women members the right to vote. This also made them eligible to contest elections and become officeholders.
It was a major step. Most of Kolkata's 15 to 20 big social clubs are conservative institutions. Be it the Calcutta Club, The Bengal Club or the Tollygunge Club, women are given second-class treatment, generally as spouses and add-ons. At the Tollygunge Club, the spouse of a member is not a full-fledged member but is officially a "permanent guest". While this is the predicament of a few husbands (married to full-fledged female members), it is mostly wives who are affected.
The right to vote and to run the club is also a strictly male domain, usually focused on a boozy and stormy annual general meeting, when the boys do their deals after the wives are sent home early. At DI, we were determined to change that. The snoot quotient of DI is not very high when compared with some of its peers, but its 4,000 members and their families cherish the club, and want to hold it to 21st century values.
As such, DI became one of the few clubs in Kolkata where husband and wife (or a member and his or her spouse) have independent roll numbers and votes at the AGM. Soon, in 2000, an upstanding member, mother and successful business executive, Denise Smith, broke the glass ceiling at DI and was elected honorary secretary.
A few years ago, The Saturday Club did one better. It elected a female president. In August 2015, DI became the second of Kolkata's established clubs to give itself a woman president when Denise Smith was chosen DI's first citizen. This was so fitting, as 2015 marks the 150th anniversary of the founding of the original DI building.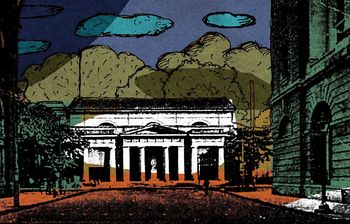 Interestingly, The Dalhousie Institute was not set up as a social club at all. It began as a reading room and meeting place for young men after they finished their work for the day, and before they went home. It was located in the Dalhousie Square area (the business district of Kolkata, now known as BBD Bagh). In those early years, there were lots of books and stimulating discussions, but no drinks and boisterous revelry. It was the thinking and inquisitive man's club, a reputation it enhanced when it seeded the quizzing culture in Kolkata in the 1960s.
During World War II, the original DI premises was commandeered by the military authorities. It is now the site of the telephone exchange in Kolkata. In 1956, DI moved to its current home, on Jhowtala Road, a few miles south of its earlier location. The property was bought from the family of the future General J.N. Chaudhuri, the first Bengali to become chief of Army staff.
My father, a very old member of the club and a former president himself, remembers getting "a happy feeling" when he walked into the DI for the first time, 50 years ago. May the new generation of members find the same warmth under the leadership of our first woman president!