The encounter with Pritilata Waddedar last month was followed by further exploration of the lives of Bengal revolutionaries of the early 20th century. We were fortunate to be present at the inauguration of a museum dedicated to another stalwart, Phanibhusan Dasgupta, in the memory of revolutionaries who had been exiled to Kalapani (the Andamans).
The museum was created through the untiring efforts of Biplab Dasgupta, Phanibhusan's son, who was only two years old when his father died. He grew up on the legends of the work of his father and his colleagues. The photographs and biographies of several revolutionaries were displayed on the occasion.
The potted biography of Phanibhusan issued on this occasion gave his date of birth as 1907, and mentions that he died in 1943 at the age of 36. He was initiated into revolutionary activity at the Shankar Math and Vivek Ashram in Barisal (now in Bangladesh), and later joined the Jugantar group of revolutionary freedom fighters in Bengal.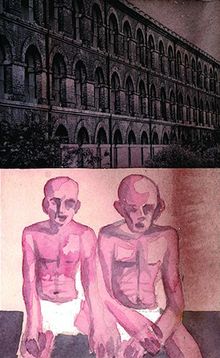 Phanibhusan and his comrades led an underground life, and sustained themselves, as well as the cause of revolution, through what were called 'Swadeshi dacoities'. During one such 'action' at village Singa, when he and his companions were raiding the stores of a well-off family, the owner's guard Entazatuddin was killed by Phanibhusan's bullet. He was imprisoned by the colonial government several times, and led several daring jail breaks. Although he escaped undetected after the Singa dacoity, he was caught, tried and sentenced to deportation and imprisonment with hard labour.
At the infamous Cellular Jail at Port Blair, Phanibhusan appears to have made a few unsuccessful escape attempts, and participated in prison agitations. However, he fell seriously ill and was mentally affected by the Cellular Jail experience. In 1938, with war clouds darkening over Europe and Asia, he was in the first batch of political prisoners to be sent back home from the Andamans. Although he spent his last years at home, he never really recovered his physical wellbeing and psychological balance, and died at home in Barisal in 1943.
It is important to emphasise that the story of Phanibhusan's life is only one of the hundreds of such stories of that time. Most of these life stories lie forgotten today, and Biplab has performed a signal service in resurrecting them―a victory of memory over forgetting. These memories raise several important issues. First, we only begin to understand through these memories that our freedom struggle was multi-hued and far more complex and nuanced than the ordinary person's history reading makes it out to be.
The second concern relates to the lives of women who participated or were caught up in these events. Leaders like Pritilata and Kalpana Dutta were easy to recognise. However, hundreds of women in the families of the revolutionaries were impacted by this history, yet we remain totally unaware of their contribution or their trauma. One of the participants at the meeting recalled how her own mother cooked and fed large numbers of underground revolutionaries passing through their home, on one occasion having to cook rice 14 times in a day. The marital life of Sudharani, Phanibhusan's wife, was filled with turmoil and separation, and she died two years after her husband. There is hardly any recognition in the public discourse of her suffering.
And, finally, a word about the killing of Entazatuddin. Does this noncombatant's death become any less tragic for having been committed in the pursuit of larger goals?
editor@theweek.in