We deeply mourn our friend Praful Bidwai, a renowned columnist, who passed away in Amsterdam last week. His death has been covered widely in the media, and many have commented on the unique space he occupied in India's civil society. Yet none of the many tributes have been able to capture the totality of the multifaceted and warm person he was.
Life's trajectory took Praful from his birthplace, Dewas in Madhya Pradesh, to Nagpur, then Delhi and from there to Amsterdam, where he had a lifelong relationship with the Transnational Institute, and which was where he died. Dewas was where the musical genius of Kumar Gandharva flourished. His family was known to Praful's, and perhaps Praful's love for music is to be traced to this early influence. Very few of Praful's friends can claim to have heard him sing, but many will testify to his knowledge of great music from India and beyond, and some friends from Rajasthan insist that he sang loud and clear along with them on his visits to their desert state.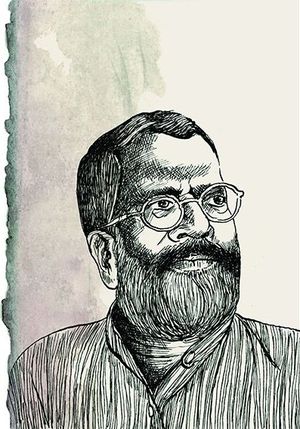 Praful was a warm friend and a foodie. Those of us from outside Delhi who have stayed with him can testify to the warmth of his hospitality and his detailed instructions to Devindar about what to cook, tailor-made to the specific taste of the visitor. The visits of friends could not have been entirely easy because Praful worked from his home office, yet he managed to combine graciousness with the highest degree of professionalism, and travelled seamlessly between his workspace and the private space where his friends waited. Although he rubbed shoulders with the intellectual elite of Delhi, his friends came from a wide range of backgrounds where his activism took him, and he was as comfortable with grassroots activists from Jaitapur as with subject experts on the Areva reactor.
One of Praful's deepest friendships was with the Palestinians, about whose right to self-determination he was passionately committed to, and whose sufferings he had sworn not to forget or condone. Many of the Palestinian leaders were his personal friends and much of his research and writing was on the issues related to justice for Palestine. At his cremation, the bier carried the banners of Palestine and of the Coalition for Nuclear Disarmament and Peace, an organisation of peace lovers and anti-nuclear activists that he cofounded. Praful was one person who saw the interconnections between nuclear jingoism, international warmongering, the armaments industry, capitalism, the poverty and deprivation of ordinary people and the climate change that threatens to destroy life as we know it. He wrote vociferously on all these subjects. To the politics of resistance and to the Left, his commitment was unwavering, as was his faith in the possibility of a just future. We wait keenly for The Phoenix Moment: Challenges Confronting the Indian Left, his forthcoming book on the history and fortunes of the Left in India.
Memorials to Praful have been held in several cities in the country. His funeral in Delhi, where his body was brought from Amsterdam, was attended by many in his large 'family' who bonded with him over shared interests and loyalties. Although Praful is reported to have written a column once about why he never married, the clan who loved him (and whom he loved) was bound to him by strong ties. They loved him with his strengths and his weaknesses. On the evening after his funeral, when some of us gathered together to talk about him, there were serious discussions whether a forthcoming memorial should have a bottle of scotch and a red flag placed next to his photograph.
editor@theweek.in