I had the privilege of meeting Narendra Modi, albeit briefly, in Chennai and Mumbai before he became prime minister. His personality and warmth had a strong impact on me and I wrote to congratulate him after the elections. I, along with my sons Amaan and Ayaan, had the opportunity to meet him earlier this month. This was our first official meeting. It was truly wonderful to see him in a peaceful and relaxed mood. We discussed the cultural scene and I put across some humble suggestions. He is definitely a man of commitment and is dedicated to the country's progress and welfare. I congratulated him on the successful Nepal tour and wished him great success for the upcoming US visit.
Guru shishya parampara has kept Indian classical music alive. Students become part of an extended family and sometimes take on the roles of sons and daughters. I would like to mention a dear shishya of mine, Rakesh Prasanna, who passed away this month. He was with me since 1989 and was like a son to me. He was also close to my sons and they called him guru bhai. Rakesh worked with All India Radio as a staff artist for the past 21 years and was an accomplished sarod player and an equally talented flautist. He was part of the talented Prasanna family that has produced many shehnai and flute players over the years. His elder brother, Rajendra Prasanna, and his nephews, Rajesh and Rishab Prasanna, are established musicians and his son, Rohan, is a talented sarod player. We will always miss his presence. I could call Rakesh at any time and he would leave all work aside to come to my aid. This kind of trust and faith is dying out today. According to my guru and father, a shishya has to surrender to his guru like one surrenders to God. It is almost like entering a dark tunnel with the hope of seeing light someday. To pay our last respects, Ayaan and I attended his funeral at Nigambodh Ghat in Delhi. I pray that his soul rests in peace.
I recently performed with Britten Sinfonia at The Taj Mahal Hotel in New Delhi for the inaugural concert of my tour Soul Strings. My association with the Taj group spans four decades. Today, the Taj group is a symbol of excellence and grace all over the world. Its commitment to detail and elegance makes it an iconic brand. I have fond memories of my interactions with the legendary J.R.D. Tata. He introduced India to fine hospitality and made the Taj group a way of life in India. The ambience of Taj always brings out the best in me.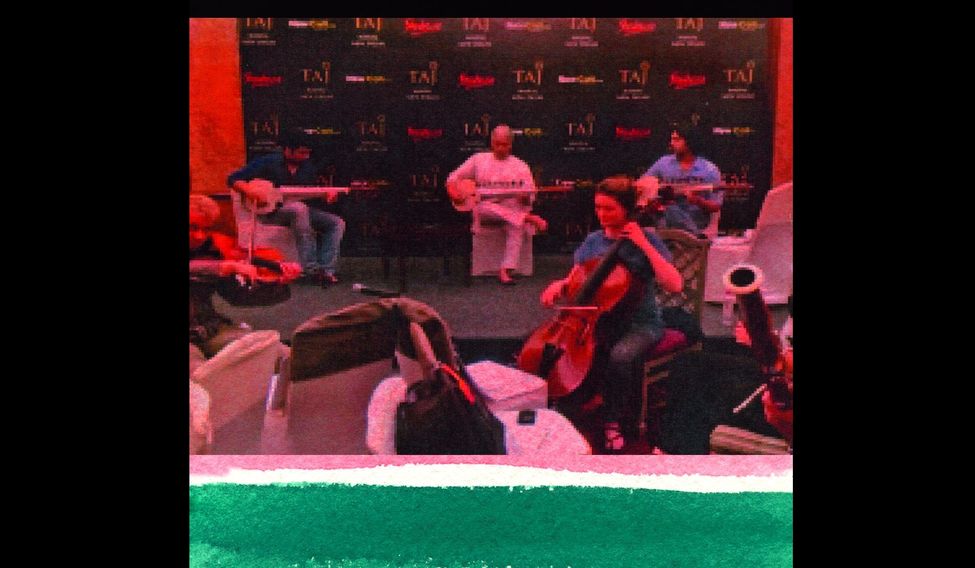 Britten Sinfonia is one of the world's most celebrated and pioneering ensembles. The main attraction of the orchestra is its virtuoso musicianship, an inspired approach that makes bold, intelligent connections across 400 years of repertoire. It does not have a principal conductor or director, but collaborates with a range of international artists, resulting in performances of rare insight and energy. Versatility is another strong suit of the talented group. My sons and I performed in six cities with the orchestra.
We presented a tribute to Mahatma Gandhi on August 14 and concluded with Samagam, my sarod concerto. Samagam, which has its roots in Sanskrit, means confluence or flowing together. Through the concerto, I aim to preserve the essence of both Indian and western traditions so they can flow into each other without artistic compromise. The orchestration is inspired by the Indian ensemble music of the pre-Bollywood era and incorporates elements of the ancient western tradition which, because of their antiquity, do not violate the rules of Indian music. The aim is to joyfully explore the common musical DNA of both traditions. Every raga has a soul and every musical note is the sound of God. In Samagam, different ragas are presented. Some make only a fleeting appearance; others are explored further.
music@sarod.com