Bengal has always been a great cultural centre, especially for classical music. My guru and father, Ustad Haafiz Ali Khan Saheb, used to spend several months in a year in Kolkata. On his invitation, the great tabla guru Maseet Khan of Rampur came to Kolkata and settled there. My first concert in Kolkata was at the age of 12, and Maseet Khan's famous son Karamatullah Khan played the tabla with me. The contributions of R.C. Boral, Jnan Prakash Ghosh and Hiroo Ganguly to the tabla are also well known.
I had the honour of playing many concerts with tabla maestros Kanai Dutt and Shyamal Bose. But most of my concerts were with Pandit Shankar Ghosh, whom I affectionately call Shankarda. In 1966-67, the prisoners of Alipore Jail wanted to listen to my sarod recital. So, the jailor and the police authorities of Kolkata approached me, and I invited Shankarda to play the tabla with me for the prisoners. Before our concert, there was a vocal recital by a classical singer, and her music was full of melancholy and sadness. Shankarda, in his typical humorous style, remarked, "Have we come to the jail to give the prisoners happiness, pleasure, joy, or have we come here to add to their sadness and depression?" I got Shankarda's message, and planned the concert in such a way that after the concert all the prisoners gave us delicious food and Bengal's very own mishti. The legendary tabla maestro is now in coma in Kolkata, and we are all praying for Shankarda's speedy recovery.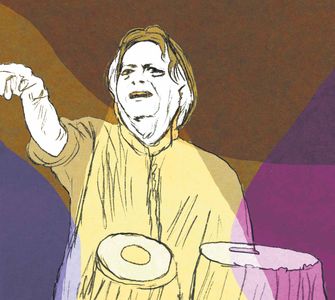 Pandit Kanai Dutt and Pandit Shyamal Bose, both from Bengal, also contributed to popularising the tabla all over India. These three tabla legends are often referred to as 'the tabla trinity'. The fascination of tabla, especially in Bengal, is unbelievable. Shankarda has taught the tabla to thousands of young students. His son, Bickram Ghosh, has become a multidimensional and multifaceted musician. Both his eminent disciples, Tanmoy Bose and Bickram, are carrying forward his legacy.
Shankarda's illustrious career has many highlighted moments. One such moment was when he visited the United States in 1962. For the next ten years, he experimented with a variety of percussionists from the west. He also joined hands with immortal bands like the Grateful Dead (whose drummer Mickey Hart was Shankarda's student), and performed with renowned saxophonist John Handy. It was during this phase that the desire to create the all-drum orchestra Music of the Drums (later rechristened as the Calcutta Drum Orchestra) took seed in his mind. The orchestral dimension was brought in by Shankarda, who created a wondrous orchestra that held audiences mesmerised for three hours, dumbstruck in the world woven by the master percussionist.
Kolkata was also home to the Blessed Mother Teresa, where she lived for most of her life. I am so happy to hear that Mother Teresa will be elevated to sainthood. She was an epitome of compassion and service to mankind. My sincere congratulations to Missionaries of Charity on this joyful announcement. Wish you all Merry Christmas and a super musical 2016!