December 28 marked the 43rd death anniversary of my guru and father, Haafiz Ali Khan of Gwalior. Even today, everything around me, from my daily routine to my family and my music, resonates with his presence, his love and the lessons of humanity that he taught me. Sometimes, I can actually feel his physical presence. Ustad Haafiz Ali Khan's life and the story of sarod are inextricably linked. The sarod, my father said, was a "limited" instrument. It had no frets, but by breaking loose of these limitations, one can make the sarod sing, cry, laugh and love.
My father taught me more than music; he taught me humanity. I remember a journey to Calcutta by train. The windows were open and a gale of dust blew into the compartment. When I asked my father whether I should shut the windows, he said, "Why worry about dust when one day we are destined to become one with it." I travelled to different parts of India with him. The rigorousness of training was compounded by my father's loss of hearing. He was very old by then. I had to literally sing in his ears to make sure that I was on the right track. By 1964, my father was stone deaf. Invited to play at a concert at Sapru House in Delhi, he went up on stage, apologised to the audience and announced that I would be playing instead. I was stunned and that was my first trial by fire. From an ordinary child, I was elevated to the status of an artiste by my guru and father.
His generosity was boundless. I remember our meeting with president Rajendra Prasad, prime minister Pandit Nehru and vice president S. Radhakrishnan at the Rashtrapati Bhavan in 1960. Rajendra Prasad asked my father if there was anything he wished for and my father said the raga Darbari Kanada was in great danger and if the president did not protect it, the purity of the raga would forever be lost to India.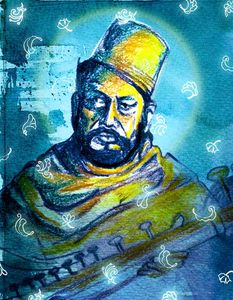 I have tried to follow my father's advice as closely as possible. I do not charge my shishyas, both Indians and foreigners. I am also trying to fulfil his wish to ensure that the Senia Bangash musical legacy does not die. My sons, Amaan Ali Khan and Ayaan Ali Khan, represent the seventh generation of sarod players in the family. I have never forced them into this line. They have volunteered to take on the responsibility of the legacy.
Spanning over 90 years, my father's life connected the high points of the colonial era and the turbulence of our own times. Born in 1877 in Gwalior, where his father, Nanne Khan, was a court musician, Haafiz Ali Khan saheb took great pride in the fact that it was his great-grandfather Ghulam Bandegi Khan Bangash who turned his native Afghan rabab into what we know today as the sarod. Yet, his thirst for knowledge took him to Pandits Chukha and Ganeshi Lal of Vrindavan, who were stern practitioners of the dhrupad and then he went to Rampur, where he became a disciple of the great Ustad Wazir Khan, a descendant of Tansen.
My father left his impression not only in that provincial court but, more importantly, also in Calcutta, then the imperial capital. It was here that he received the love and adulation that was to endow him with legendary status. Raichand Boral, who rose to fame as the music director of the New Theatres in Calcutta, once told me about my father's first visit to his house in 1918. World War I had just ended and a complacence was about to set in in the music world of Bengal. "With his arrival, we were suddenly confronted with a genius who almost rudely banished smugness, lethargy and tidy housekeeping." He discovered the link between dhrupad and thumri long before others.
Abba saheb was an extrovert. He held his head high always, brooked no nonsense from any quarter and walked the earth like a renaissance prince. On the occasion of his 43rd death anniversary, I pray to him, just as I do every day. May his soul rest in peace.