I was very happy to know about the success of Prime Minister Narendra Modi's 'Make in India' visit at the Hannover Messe, Germany. The Hannover Fair, where India is a partner country this year, witnessed the most remarkable flavours of the rich traditions and colours of India. Around 400 Indian companies participated in the fair in the presence of 100 to 120 Indian CEOs and 3,000 German delegates. A beautiful cultural programme was held at the opening ceremony of the Hannover Messe 2015. Classical dance forms such as mohiniyattam and kathak were performed by many young artists along with classical music presentations, as well as for the closing ceremony. As an artiste, I feel very happy to see this encouragement and spotlight given to the young and upcoming artistes from the world of fine arts as opposed to more predictable Bollywood acts!
I am so happy to see that India TV took an initiative in 2013 to recognise and honour those "yuva" personalities across various fields who had displayed exemplary determination and strong promise towards bringing about positive changes and leaving a lasting impact on the future of the nation. Through Yuva Awards 2015, it recently honoured young personalities for their contribution in the field of politics, sports, business, films, television and music. These awards are an attempt at inspiring iconic potential of young Indians who will take our nation to newer heights. As I have often mentioned, it is wonderful to see the youth getting honoured at the right stage and time of their lives only to take forward their journey with a greater sense of pride and responsibility.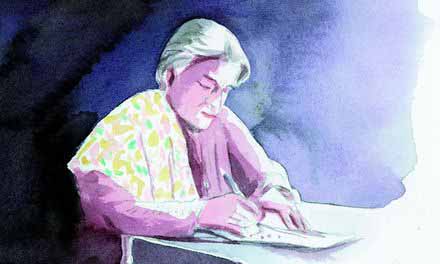 Back in the late nineties, as I recorded my album Tribute to Tagore with Suchitra Mitra, I started rediscovering Rabindra sangeet, and I also started playing Tagore in my concerts. I gradually realised the genius of Tagore―how he took liberties with ragas and made them sound beautiful in a world where everyone was scared of innovation. I recently recorded for director Suman Ghosh's Kadambari, which explores the bonds that Tagore shared with his sister-in-law Kadambari Devi. Parambrata Chatterjee plays Tagore, and Konkona Sen Sharma will play Kadambari, and the sarod plays an important part in the film. I accepted this project on the request of percussionist Bickram Ghosh, who has composed music for the film. I have known him for many years. In fact, I have played many memorable concerts with Bickram's father, the great Shankar Ghosh, and with Bickram since the late nineties. When I saw the final cut of the film, I loved the lyricism and the flavour, and agreed to be part of the film. I wish this project the very best.
I was recently asked by a newspaper what book I was reading! I was very fortunate to have met the legendary Duke Ellington in India way back in 1963. It was indeed a memorable meeting. He was visiting India at that time and happened to be in New Delhi. I received a message all of a sudden that the 'King of Jazz' wanted to hear me, especially the sarod, which intrigued him. Ellington had the most endearing personality, and was completely thrilled to hear the sarod. Realising that I press the strings with the edge of my nails, instead of fingertips, as is done for the guitar or the violin, fascinated him to no end. He had the greatest regard for India and Indian music. Ellington graciously used a photograph of that listening session in his book Music is My Mistress. In it you see a very young me and the man himself listening to me. As an artist, he was unparalleled and his contribution continues to inspire every jazz connoisseur and musician even today. Truly one of the most influential figures of jazz! I recently read his book once again after many years.
music@sarod.com