My heart goes out to the people of Chennai. I can imagine the kind of irreparable loss that they have suffered. To see Chennai like this is a nightmare for the world. I pray for the families who have lost their nearest and dearest; I pray that life gets back to normal very soon.
Numerous reasons have been cited for this catastrophe; one is climate change. I am reminded of a conversation I had with an artiste called Warren Senders in Boston in 2013. A faculty member of the New England Conservatory, Senders is a 'learning through music' specialist who applies his rich background in Indian, African and western music on cross-cultural aspects of learning through music programmes in public elementary schools. Though it was a brief conversation (we talked backstage before my performance), he talked about how artistes should educate themselves about climate change, and try to help others learn about it, too. The climate crisis endangers not only agriculture and infrastructure, but also the sustainability of our civilisation. And, it threatens the music we love. "No stable climate, no music. It's as simple as that," he said.
Musicians are guardians and custodians. Some of us present the idioms and repertoire of centuries past; some of us create new and original music. All of us form an unbroken line of transmission and continuity dating back thousands of years before the beginning of recorded human history.
Music links humans in joy and in sorrow. Our musical expressions have developed as part of our civilisation, starting with the beginning of farming in the Fertile Crescent 12,000 years ago, and evolving as part of thousands of different regional cultures all over the world. The variety and richness of humanity's music are an integral part of human civilisation, and one of the greatest and most admirable achievements of our species. Thus, it becomes imperative for us to preserve our national resources, heritage and environment through our music and individual lives.
The number of climate-related disasters around the world is growing. Climate change is the first genuine planetary emergency humanity has ever faced. I hope that we, as artistes, realise this and talk about this for the sake of the coming generations.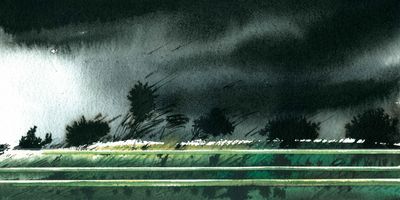 I was very sad to hear about the passing away of eminent sarangi player Ustad Sabri Khan. He had carved a niche for himself in Indian classical music and was honoured with several awards. He was initiated into playing the sarangi by his grandfather Ustad Haji Mohammed Khan and he later continued his training under his father, Ustad Chajju Khan, both of whom were accomplished Sarangi exponents of their time. May Sabri Khan's soul rest in peace.
I wonder how temples, mosques, churches and synagogues become a source of conflict and strife. All religious buildings are made of the same sentiment of love and oneness of the individual soul (atma) with the universal soul (parmatma). We all come to this world the same way, and we all go the same way. Who created this huge void by highlighting the differences between shrines, nations, communities and religion? Why should we not challenge divisiveness with the notion of oneness?
Through my music, I pray for unity by forging greater peace, goodwill and understanding, so that the vast divide between the west and the east, and between the Islamic and non-Islamic world, which has happened because of ignorance, is reduced, if not eliminated. I wish to dedicate my music, which is part of a 5,000-year-old tradition, to cutting across all barriers. I hope we find the passage leading to long-lasting peace. I hope it will inspire people towards seeking a more sensitive and secular way of life.