If the trailer led you to believe that director Antoine Fuqua will pull off a Tarantino with The Magnificent Seven, you would be disappointed. Not just because Tarantino is a LEGEND, but also because TM7 has nothing new to offer. By the end of it, you wonder what is so magnificent about the whole thing anyway.

Based on John Sturges' 1960 film of the same name, which is itself a remake of Akira Kurosawa's Seven Samurai, the Fuqua film follows the same storyline, set in the aftermath of the Civil War. A small town, Rose Creek, is bullied and abused by the rich, gold-greedy Bartholomew Bogue (Peter Saarsgard). He believes in taking what he wants without asking for it.

Emma (Haley Bennett), a fearless woman whose husband was shot dead by Bogue's men, is looking for someone to save her farmer town from him. She meets Sam Chisolm (Denzel Washington), a 'duly sworn warrant officer' who goes around bumping off outlaws to claim the bounty. A glorified, righteous bounty hunter, if you will.

Chisolm recruits his team: sharp-shooter Goodnight Robicheaux (Ethan Hawke), who has inner demons to fight, a knife-wielding assassin Billy (Byung-hun Lee), a 'Texican' outlaw by the name of Vasquez (Manuel Garcia-Rulfo), tracker Jack Horne (Vincent D'Onofrio), with a penchant for religious redemption, and a Comanche warrior (Martin Sensmeier). And of course, Chris Pratt in a Starlord-abandons-spaceship-for-guns-and-cowboy-hats avatar, as Josh Faraday, a gambler and a skilled shooter.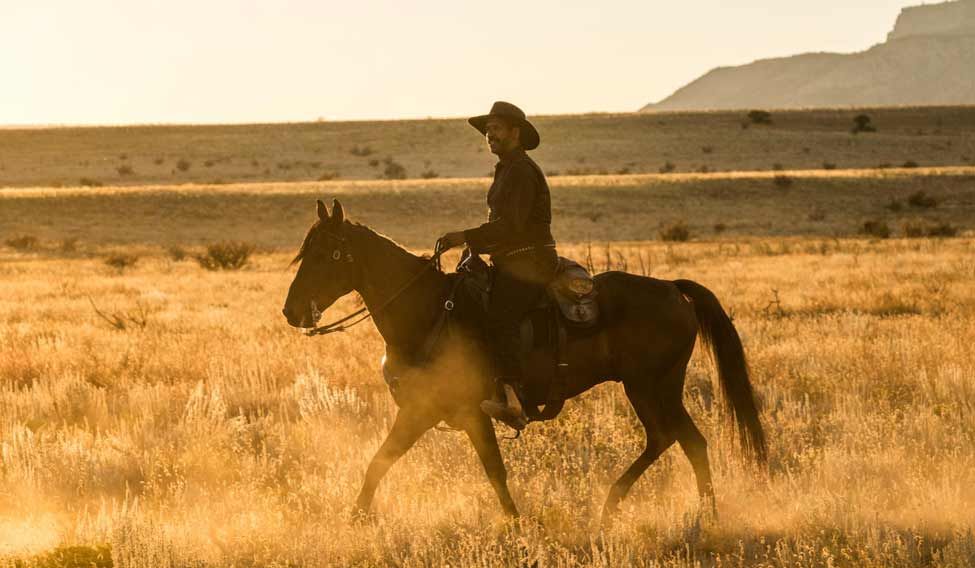 With Chisolm at the helm, the group trains the farmers to form an army against Bogue's men in a final showdown.

Washington shines as the mysterious Chisolm, and so does Bennett and Sarsgaard. Hawke, who was last seen on-screen with Washington in Training Day (another Faqua cult hit film), looks lethargic. Pratt seems to try really hard (or maybe he's not trying at all) to pull off the Western accent. Weak characterisation hurts the film, making it hard for any of them to really act, which is probably fine since it's an action-packed film (compare this to Tarantino's Westerns, which gave Christoph Waltz an Oscar for Django and Jennifer Leigh a nomination for The Hateful Eight).

The crux of the film is the final gun battle, where the execution really matters. Even then, it is passable with nothing extraordinarily catchy. The story is so unrelatable and disconnected, you might feel compelled to mock it. It makes you wonder—is the age of Western films over? Are the classic Westerns the benchmark that cannot be overcome?

It seems Western films would need more flavour and style to make it work today. Fuqua's film has all the Western classic tropes that many generations of film-goers have revelled in, but which become painful cliches here. It has several tense Mexican-style standoffs, men and women in chewy Western accents riding horses, a few gun-totting quips, and slick action sequences. But, you might as well pick a Western classic hit such as The Good, The Bad and The Ugly or Once Upon a Time in the West and come off feeling more entertained than this one.

Film: The Magnificent Seven
Director: Antoine Fuqua
Cast: Denzel Washington, Ethan Hawke, Chris Pratt, Haley Bennett
Rating: 2/5