Why always the same story—goes the tagline for Imtiaz Ali's latest venture Tamasha. That's a question we, the audience, should be asking you, Mr Ali! What's with you and stories where a happy-go-lucky woman 'sets free' men trapped in the monotony of everyday life (Jab We Met, Love Aaj Kal, Rockstar) or men toughened by the vagaries of life (Highway)? Where guy meets girls, they fall in love, are separated, only to be reunited later (Highway being an exception).
Highway, which can be termed Alia Bhatt's coming-of-age film, had set the bar high, and Tamasha, despite Ranbir Kapoor's best efforts, fails to live up to expectations. Effervescent Ved/Don (Ranbir) is on a holiday in Corsica, France, where he meets ebullient Tara/Mona (Deepika Padukone) and they get along like a house on fire—by night they are discussing h---jobs and b----jobs! #MyChoice, remember?
Ranbir steals the show in these scenes, be it imitating Dev Anand and other yesteryear actors or when just fooling around with the local people. He seems so much more at ease than Deepika, whose devil-may-care attitude looks unconvincing in some scenes. In between, the narrative goes into the flashback mode, and gives us a glimpse of the life of young Ved (Yash Sehgal) who grew up on folktales told to him—for a few rupees—by an old villager (Piyush Mishra), and hence his love for storytelling.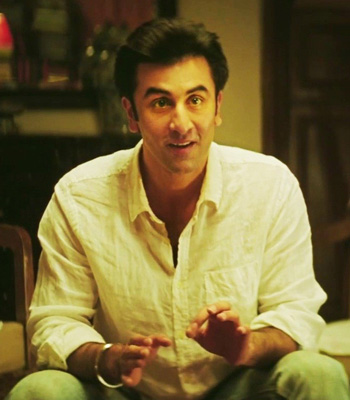 Back in Corsica, they agree not to reveal their true identity to each other and live life to the fullest in the French city, whose beauty is captured brilliantly by cinematographer Ravi Varman. 'Don' and 'Mona' promise not to keep in touch once they leave the city, because "what happens in Corsica, stays in Corsica".
But, expectedly, it doesn't. It spills into India and four years later they meet again and their affair is rekindled. But Ved is no more the 'Don' Tara fell in love with. He is a well-behaved 'normal' guy, with a 9-5 job and a routine life—another flashback into his life reveals how he had always been forced to forego his dreams to be a responsible and obedient son to his illustrious father (Javed Sheikh). So, she walks out of his life, and all hell breaks loose. No, Ved doesn't do a Devdas or a Rockstar. What we witness, thereafter, is easily one of Ranbir's best performances to date—an actor in complete control of his character. The scenes where he confronts Deepika outside her apartment and when he narrates his story to his family show how he has matured as an actor. After some forgettable outings like Besharam and Bombay Velvet, Ranbir needed a comeback film desperately, and boy, has he delivered! Deepika, too, finds her groove in the second half, tugging at our hearts with her desperate attempts to win back Ved's love after she realises she might have scarred him for life.
Keeping them company is some great music by the master himself—A.R. Rahman. Be it the peppy Matargashti or the soulful Agar tum saath ho or the mind-rattling Wat wat wat, each song complements the flow of the story well. Only, the story fails to offer much in terms of a fresh approach. Ved finally finds his true calling—thanks to the old villager (Piyush Mishra returns, with a bang)—as a theatre artiste. A storyteller who narrates stories through music and drama, similar to a tamasha (a traditional Marathi folk art form) performance.
Film: Tamasha
Cast: Ranbir Kapoor, Deepika Padukone, Piyush Mishra, Javed Sheikh
Director: Imtiaz Ali
Rating: 3