Based on the life of Ugandan chess prodigy Phiona Mutesi, Queen of Katwe is a Mira Nair film up in the same league as Salaam Bombay and The Namesake. With music that raises spirits and endearing characters portrayed by understated actors, it is her refreshing direction that breathes life into the film.
Queen of Katwe opens to a scene where a tensed but determined teenage girl walks into a large hall to sit across her opponent for a game of chess. Then, we are taken back to 2005, to the slums of Katwe in Kampala, Uganda. Nine-year-old Phiona Mutesi (debutant Madina Nalwanga) and her younger brother Brian (Martin Kabanza) sell maize to help their single mother, Harriet (Lupita Nyong'o).
Phiona follows Brian one day to a tin shed, where a bunch of children gather to learn the game of chess, coached by Robert Katende (David Oyelowo). The first day, she is admonished by everyone, who say that she "stinks like a pig". Instead of feeling dejected, she comes back the next day, properly scrubbed and showered.
Katende, who has the rare quality of sacrifice and compassion found only in the best of teachers, is the driving force of the children. While teaching them chess, he also teaches them an important lesson in life: to plan and prepare for threats, and find the "safe square".
Within weeks of learning the game, Phiona begins to show her true genius by beating every player in the group. Realising that he has a prodigy in his hands, Katende prepares to send her for tournaments. Starting within the country and then to tournaments across the African continent, Phiona comes out undefeated.
Exposed to a life much different from hers during her travels, disillusionment grips her mind. After all the fancy dining, swimming in pools and flying in aeroplanes, she becomes conscious of her barely furnished house and impoverished diet. Victory gets to her head, and she starts faltering. Soon, she realises how important it is for her to focus on chess, to bring her family to the "safe square". On an upward trajectory from there, we are taken back to the first scene.
Mira captures the life of Phiona realistically, detailing how the struggles and triumphs affect everyone in Phiona's life.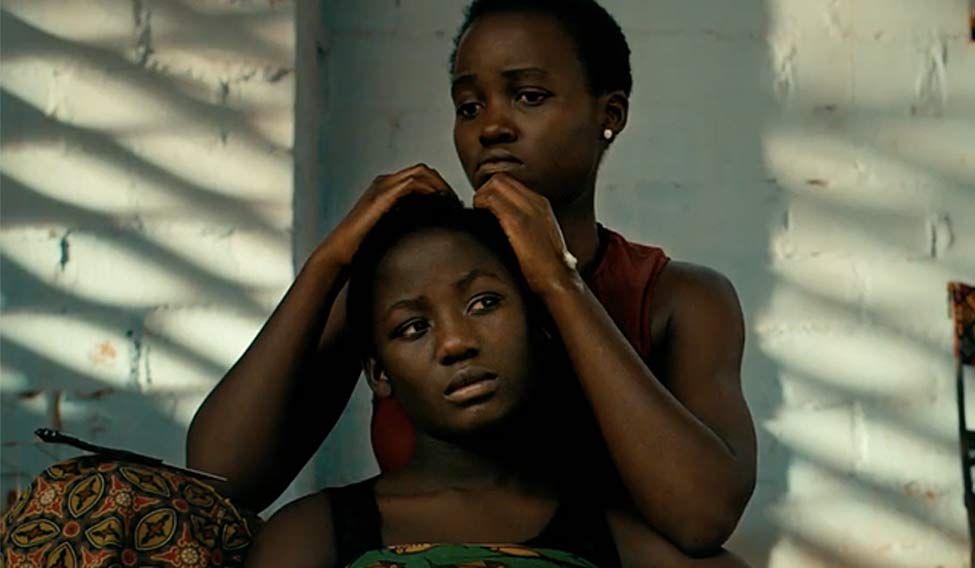 Every character introduced in the film plays an important role in shaping Phiona's life. Harriet, Phiona's lifeline, is a headstrong woman who has never bemoaned her life. Phiona's sister Night "takes the wrong path" and yet gives hope to her. Katende's wife, Sara (Esther Tebandake), teaches her to read. Brian stands up to his mother, insisting that she give Phiona another chance to prove herself in chess. Sara lends her unquestioning support to her husband when he says that he wants to dedicate his life to these children, giving up a lucrative position at a company.
The beauty of the film lies in the little details. Lupita, Oscar-winner for 12 Years a Slave, brilliantly captures the emotions of a mother who realises that her daughter, who has had a taste of "paradise", might never be the same again. Yet, she persists, and tries not to deny Phiona anything—even selling off old clothes to buy more paraffin so that she can stay up at night and study chess moves.
In a sense, the film is also about empowering those stuck in the rut of abject poverty. For instance, Katende uses the underlying envy that the slum children have of "city children", and tells them to fight them, through chess. It instils confidence in the children when they one-up the "privileged children".
Mira's perspective of Africa is stripped of the guns and violence that we are usually subjected to in films about the sub-Saharan region. Instead, we see innocent people trying to make an honest living, trying to have fun and seek happiness in whatever way they can. In the land of abundant resources, there is also an abundance of talent and intelligence—if only they had the right funding and exposure.
Queen of Katwe is a well-made feel-good film brimming with positivity and hope. It is light-hearted and sometimes funny, but with more than a few moments that tug at one's heartstrings.
Film: Queen of Katwe
Director: Mira Nair
Cast: Lupita Nyong'o, Madina Nalwanga, David Oyelowo, Esther Tebandake
Rating: 4/5