Round 1: Tap gloves
An old rickety table fan whirs undecidedly. A man, probably in his forties, with rippling muscles, scraggly mane and a salt-and-pepper beard and a woman are making love. A few minutes into the film we find he is brazenly single, downright rude, does not care two hoots about his superiors, adores boxing but hates the system controlling it. His name is Adi Tomar (R. Madhavan), the coach of the Indian women's boxing team. Thanks to a bitter past, he despises the head coach Dev Khatri (Zakir Hussain) and vice versa. Result? The conniving and lecherous Khatri packs off Adi to Chennai from Haryana to 'unearth talent'. But as fate would have it, Adi does stumble upon a talented 'boxer' Madhi (Ritika Singh), who sells fish to support her family, including her older sister Lakshmi aka Lux (Mumtaz Sorcar), the real boxer, who desperately aspires for a police job under sports quota. Teenager Madhi is tomboyish and uncouth but, true to her 'master' Muhammad Ali's words, she "floats like a butterfly and stings like a bee" with her punches. With the help of Punch Pandian (Nasser), the 'junior' coach who provides comic relief, with his "liver theory" being the clincher, Adi manages to bring the brash kid under his tutelage.
Round 2: The fight begins...
It is everywhere. Adi fighting for redemption through his protégé. Adi fighting the obstacles put in his path by Dev. Adi is unrelenting, and so is Madhavan. All the effort the 45-year-old actor has put into the role shows on the screen, be it his beefed-up body, or his dismissive manner, his coaching technique, his eyes that breathe fire every time he suffers a setback. Comparisons with Shah Rukh Khan in Chak De! India are inevitable but there is enough difference in the characterisation to set them apart. Does Madhavan go overboard? Well, he is a khadoos (boor), what do you expect? Matching him punch-for-punch is debutant Ritika, a trained kick-boxer, with film-star looks. But it makes her stick out like a sore thumb in the dusty bylanes of Chennai. Mumtaz, the daughter of renowned magician P.C. Sorcar Jr, is also a trained boxer, but she, too, fails to blend in with the local crowd. The girls, however, hold their own with some inspired, uninhibited acting. That they are trained boxers shows, with Ritika stealing the show with some aggressive performance in the ring, and that sets them apart from Priyanka Chopra in Mary Kom. But it is not all hooks and jabs. There is space and time for love, too. So, while music director Santhosh Narayanan introduces the lead characters with songs like the title track Saala Khadoos and Jhalli Pataka, the romantic number Dil Me Hua Ghotala shows Madhi's unabashed love for her all-sacrificing coach. The changing moods and the locales are captured well by Sivakumar Vijayan, the cinematographer.
Round 3: Not quite the knockout one expected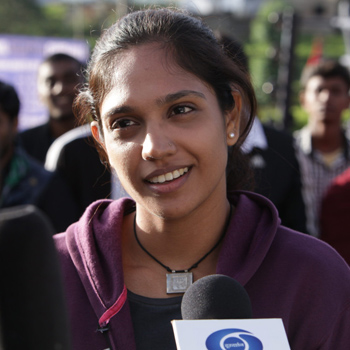 Mumtaz Sorcar as Lakshmi
After a brief separation, during which the ugly face of politics and corruption in sports is 'revealed', the protégé and her mentor come together to achieve the ultimate goal. Yawn. With Oscar-winning Hollywood film Million Dollar Baby and the Hindi films mentioned earlier sharing a similar storyline, the challenge for director Sudha Kongara was to make Saala Khadoos stand out in the crowd. Sadly, it doesn't. The climax was a foregone conclusion, but (spoiler alert) Madhi's uppercut to send her Russian opponent flying through the air had me saying, "Take that, Putin!"
Film: Saala Khadoos
Director: Sudha Kongara
Cast: R. Madhavan, Ritika Singh, Nasser, Mumtaz Sorcar, Zakir Hussain
Rating: 3
Language: Hindi/ Tamil (Irudhi Suttru)