Mr Holmes is unlike any Sherlock Holmes film that you may have watched. In fact, it is very unlike Sherlock Holmes himself. If you have gotten used to Robert Downey Jr as the swashbuckling detective or Benedict Cumberbatch who reprises the role in the television avatar, Ian McKellen's Mr Holmes is nothing like that. Sure, he has a glint in his eye and retains his astuteness, but McKellen portrays an ageing Holmes who is fighting a losing battle with his fading memory.
The year is 1947 and 93-year-old Holmes is living in a Sussex farmhouse with his housekeeper, Mrs Munro and her young son, Roger. He has retired from the profession 35 years ago and is trying to arrest memory loss by using a jelly made from prickly ash plant. Holmes is visited by the memory of his last case that was misrepresented by his partner, John Watson. Holmes wants to document the correct ending to the case and while trying to remember the details, he faces his own ghosts.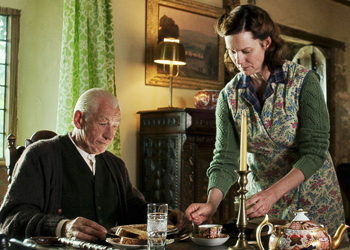 McKellen is brilliant as he deftly transitions between being a frail old man trying to arrest memory loss and the iconic detective with his brilliant skills of logical deductions. But Mr Holmes, directed by Oscar-winning writer Bill Condon, is a slow film; it lacks the fast pace of the kind of Sherlock Holmes film that we have grown to expect. But its brilliance, perhaps, lies in this very pace; an unhurried narrative that forces the audience to register every aspect of old age.
The film also shows a more human, real Sherlock Holmes who is at times weak and pathetic, a shadow of his former self. Have we ever really wondered what are superheroes and champions like as senior citizens? Mr Holmes makes us face that reality.
But is there a mystery waiting to be solved? Yes, but it is not really the central plot and leaves much to be wanted. Watch the film for Ian McKellen. That will be good enough.
Film: Mr Holmes
Director: Bill Condon
Cast: Ian McKellen, Laura Linney, Milo Parker, Hiroyuki Sanada
Rating: 3