Human Harvest is a horrifying, heart-wrenching account of the illegal organ trade in China. The documentary, directed by Canadian journalist Leon Lee, claims that state-run hospitals in China have been killing thousands of prisoners to sell their organs—heart, kidneys, liver, corneas and even skin. The trade, Lee alleges, has become an industry worth a billion dollars.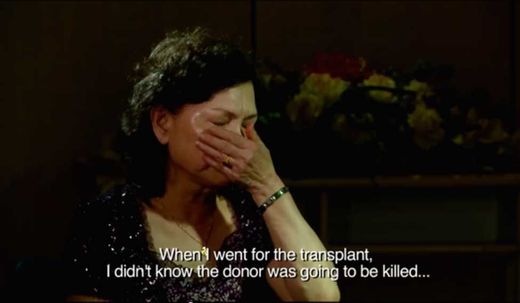 A life's worth: A scene from Human Harvest, where an organ recipient says she was not aware the donor was going to be killed.
You get a peek into the inhuman trade through the experiences shared by those once involved in it in some way or the other—from a surgeon who was once asked to operate upon a prisoner to extract his organs to the wife of a doctor who used to operate on the patients; to a police officer who witnessed how a 30-year-old woman was tortured under custody and later operated upon to take out her organs; and to the family members of patients and those who had undergone such organ transplants in China.
The documentary, which has won several awards, also features human rights lawyer David Matas and David Kilgour, a former Canadian member of parliament. Kilgour calls the illegal transplants a crime against humanity, which, he says, is comparable to what the Nazis did to the Jews.
It took Lee eight years to find and persuade people to speak up against the unethical practices of the Chinese government and make this documentary. On a Skype interview from his home in Canada, Lee told the press: "I believe if people are [made] aware of the source of organs available for transplant, they would not accept them. In China, getting an organ for transplant is just a little [more] cumbersome than ordering a takeaway lunch. This might discourage the industrial-level organ trade in China, which is the second largest organ transplant destination in the world after the US." It is estimated that around 10,000 organs are transplanted every year in China.
Among the victims of organ trade were also a large number of practitioners of Falun Dafa, a Buddhist meditation form, who were allegedly arrested in 1999. The documentary was recently screened in India to mark the 16th year of the mass persecution of Falun Dafa practitioners by the Chinese government.