"Aapne science pada hai? Nahi? Tab toh aap aur achhi tarah se samjhenge (If you haven't learnt science, you will understand this better)!" Every time Karan (Varun Sharma) says this in the film Kis Kisko Pyaar Karoon, we are left regretting the day we learnt science, or rather, were blessed with brains. Sigh… if only we were dimwits, the film would have been a helluva ride.
The fact, however, is, we are not. Welcome to reality, Misters Abbas-Mustan, the 'brains' behind the comedy caper, if you can call it one. The director-duo, who have thrilled us all with films like Khiladi, Baazigar and Race, had tasted success in the past with the comedy-thriller, Baadshah, but it was 16 years ago. Time flies, isn't it? Possibly, the directors were stuck in a time warp like Ramesh and Suresh in the 5 Star chocolate ad, when time flew past them.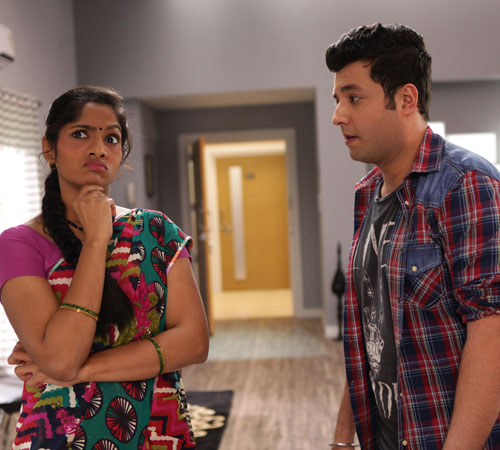 Jamie Lever as Champa bai and Varun Sharma as Karan, Kapil's friend and lawyer
Sample the script: the protagonist Kumar Shiv Ram Kishan (Kapil Sharma) gets married to three women and… wait a second. You know Kapil Sharma, right? Of Comedy Nights with Kapil fame? The stand-up comedian makes his debut with this, well, comedy (like it could have been anything else). Okay, so KSRK is forced to marry three women—Juhi (Manjari Fadnis), Simran (Simran Kaur Mundi) and Anjali (Sai Lokur)—under different circumstances, all against his wish, though he wants to marry the love of his life, Deepika (Elli Avram). And he fails to say 'no' each time because of his inherent goodness of heart (sniff). The result? To manage his three wives, Kapil houses them in the same building on different floors taking care not to let them run into each other. Bring his parents, Sharat Saxena and Supriya Pathak, into the frame and you get a picture about the game of hide-and-seek to follow.
When not dwelling on the finer points of the film, like what if Kapil did not have four words in his name to divide among the four women or what he actually does for a living (he rides a Harley Davison and drives a couple of other mean machines) to afford three posh flats in Mumbai, you can manage a few laughs. Kapil, with his oh-so-familiar one-liners, and Varun, with his 'science lessons' to bail out his friend, manage to keep the audience entertained. But the show-stealer is Champa bai, brilliantly portrayed by Jamie Lever; her expressions and comic timing are impeccable—a performance which is sure to make her father, the evergreen comedian Johnny Lever, proud.
The only instances when Kapil seems a bit out of his comfort zone are when he is shaking a leg with Elli, who sets the screen on fire with two peppy numbers, Bam Bam Bole and Jugni Peeke Tight Hai, and when getting romantic with his three 'wives'. With four beautiful women around him, which includes a former Miss India Universe, that is Simran, he wouldn't have minded the retakes one bit!
Those who swear by Kapil's brand of slapstick comedy, will lap up this film happily. All the complaints will fall on deaf ears. Speaking of deaf, Arbaaz Khan appears in the film as Tiger bhai, a deaf don and Anjali's brother. And how did he become deaf? He accidentally pulled the trigger when he was cleaning his ear with a gun. If you didn't flip, this film is for you.
Film: Kis Kisko Pyaar Karoon
Director: Abbas-Mustan
Cast: Kapil Sharma, Elli Avram, Manjari Fadnis, Simran Kaur Mundi, Sai Lokur, Varun Sharma, Manoj Joshi, Supriya Pathak, Sharat Saxena, Arbaaz Khan, Jamie Lever
Rating: 2