The waterproof UE Roll 2 comes with its own flotation device for those poolside parties!
Ultimate Ears is a New Jersey (US) brand of audio accessories that is popular among the Young and Restless; the Bold and Beautiful. Their products are not the cheapest in their categories—but they provide some key functionalities that other makers haven't thought off and which often makes us ask, "Why didn't anyone think of that before!"
Their latest launch in India—the UE Roll 2 Bluetooth speaker—is a case in point. The wow factor in this case, is achieved by throwing in free, a tiny rubber raft on which one can tether the (waterproof) speaker and have it floating in the middle of swimming pool or bath tub.
UE recognize with their canny feel for their customers secret wishlists, that it is not enough to make speakers meant for outdoor use, rugged and rain proof. So many parties are held pool side that a floating speaker seems almost like an idea whose time has come.
I tried out the UE Roll2 for a few days in, I must confess, rather drier ( pun intended!) circumstances. I had reviewed UE Roll 1 about six months ago and wrote at the time: From its disk-shaped, fabric-covered exterior to its waterproof combo of tweeters and woofer, it shouts 'jawani deewani'. None of that has changed. The new model feels similar, but puts out more sound from its distinctive, discus-shaped body. It still remains light --- 300 grams—and easy to hold, but now with a bungee cord for easy looping to belt or backpack.
The wireless range seems to have improved too—and it is now said to connect with up to 8 other Bluetooth devices like music player or mobile phone at up to 30 metres. It houses 3 drivers (One woofer, two tweeters) which ensures good all round sound and a full charge keeps the Lithium ion batteries going for some 8-9 hours.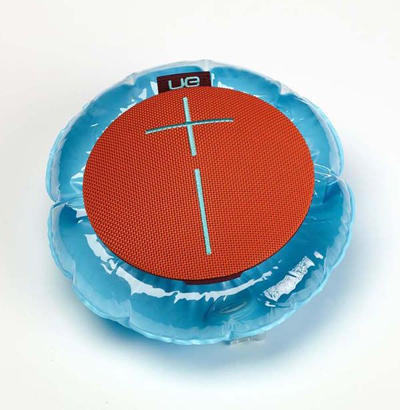 UE speakers have always had the USP of waterproof housing. This time they have thrown in a 'floatie' which you can secure around the speaker before sending it out afloat and belting out music.
Like most Bluetooth speakers the UE Roll 2 works with a mobile phone-based app to control it and select your music source. But here's real eccentricity: it has no feature that allows you to use it as a speakerphone to receive incoming telephone calls.
I thought long and hard to try and fathom the logic that would exclude a feature that is almost standard on outdoor Bluetooth speakers. Then it hit me. The target users, wouldn't want to be disturbed by anything as mundane as a phone call, l when they are immersed in an outdoor party—and a very wet (again pun intended!) at that—fuelled by music from the UE Roll 2.

It costs Rs 8495 in India.