The Mid-Day Meal Scheme is a classic example of a programme with all the right intentions that unfortunately failed to achieve its goals because of poor implementation by states. It began as an ambitious attempt to provide poor students in primary and upper-primary classes of government-run and government-aided schools with at least one nutritious meal in a day, while also serving as an incentive for parents to send their children to school. It was aimed at increasing enrolment and attendance in schools and reducing the rate of dropouts.
In 2013-2014, the budgetary allocation to the scheme was Rs 3,000 crore. In 2009, the human resource development ministry had issued guidelines to ensure that the food served as part of the scheme met nutritional standards. With proper implementation, the scheme had the scope to tackle problems of malnutrition that are prevalent among children from lower economic backgrounds. But, on the ground, the priority was to increase the coverage of the scheme in terms of number of schools and students covered. The same metrics were used to measure the success of the scheme. In 2012-2013, it was estimated that more than 104 million children were covered under the scheme. This number implies that the scheme was incredibly successful. However, in the process of increasing coverage, the quality of food served received negligible attention.
The mid-day meal is required to provide a student with nutrition and appropriate number of calories. However, many kitchens where the food is cooked pay no attention to these nutritional requirements. Some districts do not have proper kitchens or training in hygiene or quality control mechanism.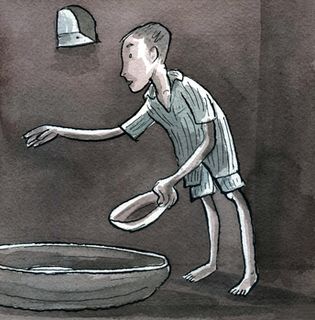 Illustration: Bhaskaran
In the past, there have also been instances of students falling sick after consuming the meal. For instance, 23 students of a school in Bihar died of food poisoning in 2013. In a more recent incident, students of a school in the same state fell sick after consuming a meal that was later found to have a dead lizard in it.
The design of the scheme also gives a lot of scope for misuse of funds and embezzlement of money. One common method used is by making fake enrolments. Recently, not only was a relative of an MLA in the Arvind Kejriwal government in Delhi given a contract for mid-day meal, but a meal served also had a dead rat in it. Some NGOs that assist in the implementation of the scheme are involved in corruption, too. NGOs collect the foodgrain allocated for the scheme from the Food Corporation of India godown. However, certain NGOs reportedly redirect the grain to the godowns of rice and flour mills and merchants for monetary benefits, and replace it with poor quality grain which, in turn, is supplied to the mid-day meal kitchens.
A lack of coordination, monitoring and accountability is responsible for problems with the implementation of the scheme. Any attempt to correct what is wrong with the scheme must target these broad problem areas. First, the lack of accountability must be fixed. Any scheme that involves multiple players is bound to be difficult to control, which makes it all the more important to ensure that a strong accountability mechanism exists. Second, inspections must be conducted at regular intervals, and food must be sampled and tested not only for hygiene standards but also for nutritional value. Third, records should be stringently maintained. Steps must be taken to ensure that fake enrolments cannot be made to cover up for embezzlement of funds. If the aid of NGOs is being taken for the implementation of the scheme, they must be monitored closely and be held accountable for their actions.
While it is a complex process to fix a systemic problem, starting with the right steps will ensure that progress is made in the right direction. An attempt at solving these problems will ensure that a socially beneficial scheme reaps favourable results.
forthwriteml@gmail.com