President Pranab Mukherjee is known for his elephantine memory. Add to that his deep involvement in national politics for the past several decades, and you have in him a rich repository of India's political history for a large part since independence.
That is what makes his memoir The Turbulent Years a must-read. The second part of a trilogy of memoirs, the book deals with 1980 to 1996, a time that was not only crucial in shaping India's polity, but also significant for Mukherjee in terms of his own political career.
It is a period that saw the return of Indira Gandhi to power, the untimely death of Sanjay Gandhi, the assassination of Indira and the subsequent anointment of Rajiv Gandhi as prime minister, the assassination of Rajiv and the prime ministership of P.V. Narasimha Rao. Mukherjee worked closely with all these leaders. But, if the book is read with the purpose of finding sensational revelations about them, one would be in for disappointment.
The material for the book comes from the daily entries he made over the years in his diary. And a lot of the diary's contents continue to be a secret. The book is Mukherjee's attempt to understand why he was in and out of favour with the Gandhis, and in and out of the party and the government.
He tries to set to rest the popular theory that he fell out of favour with Rajiv because he had aspired to be prime minister after Indira's death. He writes that he, Rajiv and two other leaders were on a plane to Delhi from West Bengal after they learnt the news of the attack on Indira. There was a discussion on what was to be done next. Mukherjee cited precedents from the time when Jawaharlal Nehru and Lal Bahadur Shastri died in office and Gulzarilal Nanda was sworn in as interim PM on account of him being the senior-most minister. "However, that took place when the incumbents died a natural death," he writes. "This was an extraordinary situation when an incumbent Prime Minister had been assassinated. Apart from a political void, a lot of uncertainties, too, had been created."
It was then decided, on the flight itself, that Rajiv would be requested to take over as prime minister. "I took Rajiv to the rear of the aircraft and requested him to take over as Prime Minister. His immediate question to me was, 'Do you think I can manage?'"
Mukherjee writes that the stories that said he aspired to be interim prime minister created misgivings in Rajiv's mind. "These stories are completely false and spiteful," he writes.
He quotes from Gandhi family confidant P.C. Alexander's memoir to defend himself. Alexander had written that a group of individuals, with malicious intent, had spread a canard that Mukherjee had staked a claim to become interim PM and had to be persuaded with great difficulty to withdraw his claim. "The obvious objective was to create discord between Rajiv Gandhi and Pranab Mukherjee," wrote Alexander. "But I should record here the true fact that Pranab Mukherjee had readily endorsed the suggestion [that Rajiv Gandhi be straightaway sworn in Prime Minister] I made to him."
About his exit from the government and then from the party, Mukherjee writes: "…all I can say is that he made mistakes and so did I. He let others influence him and listened to their calumnies against me."
Mukherjee admits that his decision to form a party of his own, the Rashtriya Samajwadi Congress, was a mistake. He writes that he could have avoided the "fiasco" and should have had the wisdom to realise that he was not a mass leader.
Mukherjee writes about his surprise at Narasimha Rao, with whom he had shared an excellent equation, not including him in his cabinet and, instead, appointing him as deputy chairman of the Planning Commission. He reveals that Rao did talk to him about his exclusion from the cabinet: "…he said, 'Pranab, I cannot tell you why I did not take you into the cabinet. Perhaps a day will come when I can speak to you about it. But, not now.'….Sadly, the day he spoke about never came."
On his equation with Manmohan Singh, who was finance minister in Rao's cabinet and is credited with ushering in economic reforms, Mukherjee says the two of them worked as a team. He calls Singh "an able associate".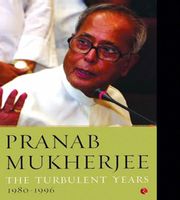 The period, as Mukherjee describes it, saw him confronting the two ends of the power spectrum. He says failures and bad times taught him courage, while every success reinforced in him the value of humility.
The Turbulent Years: 1980-1996
By Pranab Mukherjee
Published by Rupa
Price: Rs.595; pages 221