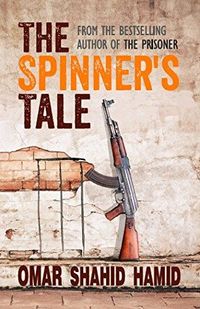 The Kandahar hijack ghost never rests. So, in a week where spooks are spilling secrets, The Spinner's Tale might just be worth grabbing. It isn't Mohsin Hamid's The Reluctant Fundamentalist set in Lahore. But one of the protagonist, a dreaded terrorist, gets exchanged in the Kandahar hijacking.
It starts with Omar Abassi, posted in Nara. It is a station where no ASP stayed. He is then entrusted with a high security prisoner—the dreaded terrorist Ahmed Uzair Sufi—loosely based on Omar Sheikh, the man who was convicted of the murder of journalist Daniel Pearl. In the book, however, Sheikh Uzair commits an even more heinous crime—he decapitates a pregnant woman journalist. Omar, is warned not to have anything to do with him. No contact, no conversation, certainly no cricket scores. Of course, that doesn't happen.
The Spinner's Tale is twisty. The story isn't new—the young misguided boy who becomes a terrorist, the friends who don't and unrequited love. Ausi, Eddy and Sana are best friends. They go to an elite school and speak English. And Eddy and Ausi love spinners and cricket. Eddy and Sana then go off to the land of milk and honey, leaving Ausi behind with the reality of Karachi. The rest is a Hindi movie. But somehow, Omar Shahid Hamid has made it gripping. It does feel sort of simplistic. It isn't revelatory. It even has a RAW operative—a Reddy.
Told through letters and Omar's detective work, the book may not be a keeper. But it is like a T20 match.
The Spinner's Tale
By Omar Shahid Hamid
Published by Pan Macmillan India
Pages 300; price Rs 399