As he was preparing to go into his biggest electoral battle, Prime Minister Narendra Modi marshalled in all like-minded forces. One of them was Subramanian Swamy, the enfant terrible of Indian politics. He merged his Janata Party with the BJP in August 2013, just two months after Modi was made the face of the BJP's 2014 election campaign. Many BJP leaders looked at Swamy's entry with trepidation, and suggested he be kept occupied with appropriate work. So, Swamy was first asked to draft tax proposals for the party's vision document, and, a few months ahead of the polls, was made in charge of a strategic action committee. Not much was heard about the two later. Swamy was promised a ticket from New Delhi Lok Sabha seat, too, but was overlooked. The Rajya Sabha seat, a promise by a party bigwig, also did not materialise. He was finally nominated to the upper house in 2016. But, Swamy kept himself occupied—he established himself as an anti-corruption crusader, going against the big guns of the Congress, and commanded his own army of staunch hindutva supporters.
Niggling questions, however, remained, like what took Swamy so long to join the BJP, given that he was part of the Jana Sangh, its precursor. Answers now emerge from an authentic source—Swamy's wife, Roxna, the mathematician-lawyer, who has penned a book—Evolving With Subramanian Swamy: A Roller Coaster Ride.
Married for 52 years, the couple, who first met as graduate students at Harvard University, has been through some of the most tumultuous times of Indian democracy. The most contentious portion in the self-published book is Roxna accusing former prime minister Atal Bihari Vajpayee of conspiring to keep Swamy away from the BJP. She says Vajpayee was "jealous" of Swamy because her husband had become an Emergency hero and was held in high esteem in the RSS. She blames Vajpayee for Swamy's expulsion from the Rajya Sabha—the first MP to be expelled—in 1976. Another controversial revelation is about a corporate honcho interviewing MPs for the post of finance minister during the Chandrashekhar government. Swamy never made the cut; he ended up being a corporate affairs minister.
Roxna details the Emergency days when her husband was on the run, disguised as a sardar. But, she focuses more on how people treated Swamy rather than on her travails during this period, raising two daughters on her own. Though he took on Indira Gandhi, he became friendly with her in subsequent years. Roxna recalls an incident when Swamy asked Indira to send him an IAF helicopter for his return from an arduous Mansarvovar trek. "She first teased him by suggesting that it would suit her more if a troublesome person like Swamy went to Tibet and never returned," says Roxna.
The detailed reference to Modi comes in the middle of the book, when Swamy was on the run during the Emergency. "In Ahmedabad, he would be received and looked after by a dedicated Swayam Sevak he had known since 1972, on whose motorbike he would ride to visit Jana Sangh minister Makarand Desai.... Forty years later, the humble Swayam Sevak became the PM," the book reveals.
Though the book refers, curiously, to the period only till 1991, Roxna obliquely refers to current controversies, like the one involving former Reserve Bank of India governor Raghuram Rajan. "Like a lot of Swamy fracas, it started out as a scholarly dispute.... Perhaps because of Swamy's criticism or the government's indication that it was quite content not to controvert Swamy's statement, Governor Rajan was forced to opt out of a possible second term," Roxna claims.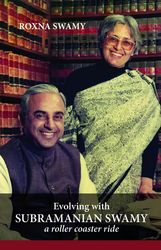 Roxna's admiration for Swamy, whom she considers a person of superior intellect who is yet to get his due, stands out. She also brings out the apparent difference between her, a serious Parsi girl, and Swamy, a "practical" Madrasi boy. Soft-spoken in real life, Roxna hits out bitterly at Swamy's tormentors, calling them names, especially from the reptilian family. This name calling tends to take away some sheen from the book, which often seems like a hagiography of her husband.
Evolving With Subramanian Swamy: A Roller Coaster Ride
By Roxna Swamy
Self published
Pages 264; price Rs 699