While India has had a tradition of making 'middle-of-the-road' cinema― neither too crass nor too high-brow―to attract the middle-class audience, no such category has developed in Indian English fiction.
Mehbub Gulley, a collection of short stories by former additional chief secretary of Maharashtra T.F. Thekkekara―under the pen name Elizabeth Kottarem, could fall under that nonexistent category. The 18 slice-of-life stories, divided into two volumes, have diverse settings, ranging from villages and small towns in Kerala to government offices in Mumbai, Kolkata and Delhi. At least one has a fictional setting―the state of Southrashtra.
The stories in the first volume are simple tales about ordinary people, the vicissitudes they face on a day-to-day basis and their relationship with the world around them. Those in the second volume bear strong evidence of Thekkekara's bureaucratic experience. They are written with greater vigour and have a certain sense of humour. The characters, too, are more lively and identifiable.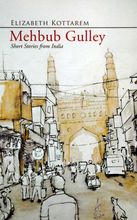 Thekkekara does a good job of familiarising her reader with each of the different settings by paying attention to details like what her characters cooked, ate or wore on a certain occasion. The second volume comes alive with descriptions of the myriad idiosyncrasies of the administrative machinery in India and members of the bureaucracy and other arms of government, including the accented English spoken by many of them and the peculiar systems of nomenclature of projects followed in government departments.
As long as you do not go in expecting high literature, Mehbub Gulley would serve well as the kind of stuff you read on your way to work or back.
Mehbub Gulley: Short Stories from India
By Elizabeth Kottarem
Published by Partridge Publishing
Price Rs.499; Pages 328