It is one of the classics of contemporary India, the story of the Emergency spelt with a capital E.
We hear a version of it in parts at every election rally that a non-Congress party holds. There have been books and books on it, particularly in 2015 when people noted it was 40 years since democratic rights had been suspended by prime minister Indira Gandhi. Her popularity, ironically, has not diminished even now. Though the Congress lost the 1977 general elections, she managed to bounce back to power in less than three years.
Despite so much being written on the subject, The Emergency: Indian Democracy's Darkest Hour by A. Surya Prakash, who was witness to that darkness, does not lose value for two reasons. One, because it is a classic theme in modern Indian politics, and two, because, as the author says in his preface, there is a commitment to the promotion of democratic values.
The author, now the chairman of Prasar Bharati, has told the story of individual heroes of Emergency and interlaced it with those of the stories of villains as well. He has culled stories of many who have commented on the most disgraceful act by a powerful prime minister, who was determined to hold on to power at any cost. This affords the readers a first-hand account from them. There are findings of the Shah Commission report, considered the most authoritative finding on the subject. The book also details the plight of opposition leaders like L.K. Advani and George Fernandes, who were jailed the day Mrs Gandhi clamped Emergency. The book stays with Emergency, and does not in any way talk of the current political scenario.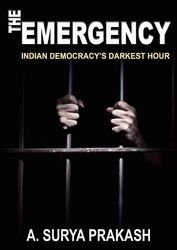 What is particularly fascinating by way of a closing chapter is the "sacrifice" of Justice H.R. Khanna, who gave a dissenting judgement, saying "the Constitution and the laws of India do not permit life and liberty to be at the mercy of the absolute power of the Executive". Khanna's name was first struck off the list of invitees for official functions, and then he was superseded when it was time to elevate him to the office of Chief Justice of India. The author singles out Khanna and Jayaprakash Narayan as heroes because of whom we breathe free air.
But, as Prakash rightly points out, the Gen Y or the millennials will read all this with disbelief.
The Emergency: Indian Democracy's Darkest Hour
By A. Surya Prakash
Published by MeghNirghosh
Pages 223; price Rs 295