Now who wouldn't like to be happy! Vikram Thummala's Happiness Sutra: Be the Witness is a book that harps on happiness, soul-searching and self-discovery.
The story revolves around Ajith, a young IT professional in Kerala, who is sick and tired of life and wants to commit suicide. An atheist, he believes that the gods, if any, are selfish. He has every reason to be dejected: a failed love life, parents at loggerheads, friends who ignore him and a termination order from his employer.
As he is set to jump into the Periyar river, a police officer called Kartik thwarts the suicide attempt. The conversation between Ajith and Kartik forms the rest of the story. Kartik tells Ajith that the happiness he is craving for is within him, and not in people or things around him. The book ends on a sanguine note. Ajith, thanks to Kartik, sees life from a clearer frame of mind.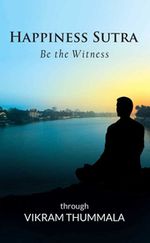 Thummala, through Kartik's words, makes us realise that we need not go fishing around for happiness. It is all around us. We should also not focus on events that are outside our control. A few changes in our habits can make us happier. Life has been designed for us to go through certain experiences that are meant for our personal development. The best way to do that is to lead a life of detached involvement.
Says Thummala: "The book is an effort to help you find happiness. It wishes to reassure you that true happiness is within your reach and seeks to show you the way to it."
At a time when there is no dearth of books on happiness, it is important to make readers hooked on to your book on happiness. Thummala succeeds partially in this attempt.
Happiness Sutra: Be the Witness is a useful guidebook for people deprived of happiness in everyday life.
Happiness Sutra: Be the Witness
By Vikram Thummala
Published by CinnamonTeal
Pages: 176; price: Rs.250