A reluctance to pick up the book is understandable. Can anything new be said about Gandhi? Libraries survive on just the Gandhi literature, his own writing and others writing about him. Then, as the author owns Roli Books, one may think the book's publication may not exactly be based on merit. But Pramod Kapoor, known for his research skills and production values, gives you enough reasons to dismiss the prejudice. Filled with photographs—some iconic and many never seen before—the book brings alive a man who dominates discourses but is never really 'seen'.
So, there is a photograph of Gandhi being operated upon at Sassoon Hospital in Pune. He had developed acute appendicitis in Yerwada Jail. V.S. Srinivasa Sastri, head of the Servants of India Society, and Dr Pathak, a friend of Gandhi, were called to draft a public statement that the Mahatma had been given the best treatment, if the worst happened. And it could have—the electricity went off during the surgery and it had to be continued with the light of hurricane lamps.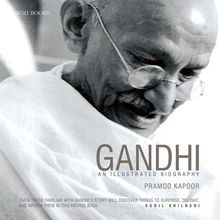 The book also has a picture of Gandhi with Charlie Chaplin. The story goes, writes Kapoor, that Chaplin wanted to meet Gandhi, but the Mahatma didn't know who he was. He was, however, persuaded to meet Chaplin as he came from a poor family. For this and more, buy the book.
Gandhi: An Illustrated Biography
By Pramod Kapoor
Published by Roli Books
Price Rs 2,495; pages 323