A Feast of Vultures is the fascinating tale of modern India and its journey as a liberal economy. Through his experiences and encounters as an award-winning investigative journalist, Josy Joseph describes what happens in the power corridors and in the lives behind-the-scenes of political bigwigs, industrialists and businessmen. Interestingly, the book is not pessimistic but looks ahead and promises a light at the end of the tunnel for the next generation.
Josy started out as a defence and security reporter and worked with Rediff, The Indian Express, DNA and The Times of India, before joining The Hindu as its national security editor. He has written investigative stories on the Adarsh apartment scam, the naval war room leak case, the Commonwealth Games scandal and the 2G spectrum allocation scam.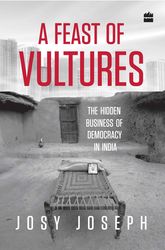 He began writing the book in 2007. The exposes and scams documented bring a chilling yet thrilling personal touch to the book, displaying his prowess as an investigative journalist.
The message is loud and clear: the loot should end, rhetoric should turn into action and we must change the "business as usual" approach which allows crony capitalism, scandals and scams.
A Feast of Vultures
By Josy Joseph
Published by HarperCollins
Price Rs 599; pages 231