Viewpoints are crucial when it comes to mountain ranges. If the distance is too much, they seem unimpressive. Get in too close and you'll miss the forest for the trees. View them from the perfect distance and they will take your breath away. Jyoti Sabharwal provides us this viewing platform in Afloat A Lotus Leaf, her biography of Kapila Vatsyayan.
A cultural colossus of our times, Vatsyayan is almost a media recluse, preferring to express herself in peer circles. So readers must give Sabharwal credit thrice: for drawing Vatsyayan out, for providing a comprehensive collage of her life and for making the volume eminently readable.
Cultural colossus: Vatsyayan is almost a media reclusive, preferring to express herself in peer circles | Sanjay Ahlawat
Vatsyayan's much decorated life definitely makes for good copy. As a child she recited poetry at the knee of Rabindranath Tagore, and the legendary Nandalal Bose taught her how to hold a paintbrush. From then on, she walked in the shadow of giants and eventually became one herself.
The book is a journey through people, politics and landscapes—both physical and cultural. Sabharwal's training as a journalist shows in the way the three strands have been woven into one smooth narrative. Highly anecdotal, the book does not restrict itself to Vatsyayan's artistic life, but details her challenges and success as an administrator as well.
I would have loved to see a few photographs marking the milestones in Vatsyayan's life. And, an index. This book is for keeps and an index would have made navigation easy for researchers. The cover design could have been better. Then again, don't judge this book by its cover. What's inside more than makes up.
EXTRACTS
Actress, witch or courtesan?
Each time she went, each time it was denied. She pursued and pursued. What an exercise in futility! Who would have permitted a young woman, especially from North India, to be watching those men only in their length, being massaged and undergoing physical training early in the morning, even before any dance training began. And soon enough, she had become talk of this small district. "Who is she? Is she an actress, a courtesan, a witch, or someone else? What is she doing alone in a traveller's bungalow wanting to see not just the performance of Kathakali, but also the morning exercises, massage, and whatever else?"
Though Kapila did have an introduction letter for poet Vallathol Narayana Menon, he was away, and any request was of no avail in his absence. Patience paid dividend and Vallathol was quite affable, as she met him on his return, and eventually the doors opened. She was allowed to sit quietly, not ask too many questions, and only watch in that focused dim light of the single lamp.
Pt Nehru and the Republic Day floats
"And one day, during a class in Miranda House, the principal called her over and said, "There's a phone call from the Prime Minister's office. He wants to talk to you."
She didn't quite know what was happening. She took the call and went over to see Pt Jawaharlal Nehru. On meeting her, he said, "Soon, we're going to have our first Republic Day parade. Don't you think it would be a good idea to have floats on the cultural history of India? Also find out more about the dances and the people of the remote regions of India."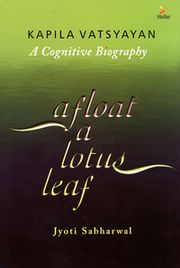 Sit under the staircase!
"Sometime in 1985, Kapila received just a two-line order" appointing her as the first director of the Indira Gandhi National Centre for the Arts."And when Kapila made inquiries, there was still no clarity whether this Centre would be attached to any ministry. After some confabulations, she found herself attached to the Cabinet Secretariat. Of course, they did not have a place for her to sit. She went to the Cabinet Secretary, and asked, "Where would I sit?"
He said, "There is a chair and table under the staircase in the Cabinet Secretariat, you can sit there."
Afloat A Lotus Leaf
By Jyoti Sabharwal
Published by Stellar
Price Rs895; pages 550