Readers are treated to a passionate and powerful recount of a Frenchman and Indian woman's blossoming love for each other.
A Goan, born and brought up in Chennai, fell head over heels in love with a Frenchman and now having been married for eleven years, considers herself in the category of 'living happily after'. Somewhere during this romantic journey, Cécile Rischmann (nee Fernandes) wondered why such inter-racial marriages don't happen more often and decided to meld her own life experiences with dollops of mushy love and write a book—The French Encounter.
"The idea of The French Encounter popped into my mind the first time I met my husband Jean-Paul who had come from France to India to construct a glass float. He was so startlingly different from me, his ideas so advanced, his lifestyle so diverse that I began to suddenly toy with the question: what would happen if an Indian woman fell in love with a Frenchman? Our courtship was very rocky as the hurdles were one too many for us, yet, when it finally came to realise, the relationship was highly successful. I began to wonder why more joint-ventures weren't happening. I felt it was time someone wrote an East-meets-West love story and who better than me who has experienced such a relationship? But, I began this romantic comedy as a short story which slowly developed into a full-fledged novel," says Cécile.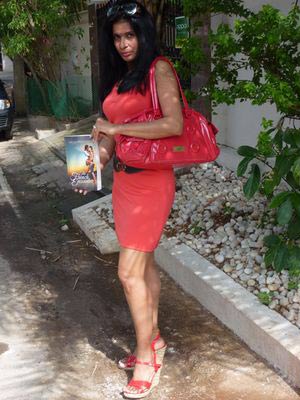 Author Cécile Rischmann
The story
It begins when Jean Leclerc (JLC), a young French billionaire, decides to construct a glass float in India. He is thinking of political and environmental hurdles when he has a surprise encounter with a ferocious Bengal Tiger. Enter Katrina Santiago, a young feisty Indian woman who is saving herself for the one she will eventually marry. She may work for the French administration, but she does not date Frenchmen. When she sees JLC in all his splendour, values and traditions fly out the window. She wants him bad; she wants her one chance at love. East meets west, romance blooms… and hilarity ensues as readers are treated to a passionate and powerful recount of a Frenchman and Indian woman's blossoming love for each other, as well as the struggles they had to go through in order to stay together. Their very different perspectives on life seem to drive them apart and sometimes, it seems that The French Encounter Katrina pines for is doomed to disaster.
Rischmann treats readers to a battle of love, lust and longing between a sophisticated tycoon whose cynical facade of disillusionment conceals the emotional vulnerabilities of his heart and a naive virgin entranced by her unique lover while stubbornly holding on to her belief in a "happily ever after." The author uses her know-how of Indian and French culture, and her own life experiences, to give readers a rollercoaster of a romantic comedy.
Background
"I hail from a family of artistes. My late mother was a singer, my late father a chef, my brothers are professional violinists and my sister is a music/class teacher. I love song, dance, reading, storytelling and writing. My hobbies are teaching and counseling. I developed a flair for languages and studied Tamil, French, Business English, Italian and Spanish, but French was my first love. I studied French at Alliance Francaise for five years and at Madras University for two years and then worked for several French organisations including the Honorary Consulate of France and incidentally that was how I met my husband Jean-Paul. After our marriage we've been globe-trotting as he's into several projects. Presently we shuttle between France and India," says Cécile.
What makes Cécile's and Jean-Paul's marriage unique? "I don't know about 'unique', but we go the extra mile for each other. Although we are virtually from different planets, we do not try to impose our views on the other. We allow each other to grow," says Cécile who loves to dance and picks up different forms of dancing during her numerous visits to other countries. With music and dance in her blood, Cécile sure knows how to be a die-hard romantic and keep her marriage alive with her creative pursuits.
The French Encounter By Cécile Rischmann
Published by Partridge, a Penguin Random House Company; 294 pages
Available at Amazon and Barnes & Noble