Soon after his acquittal by the Supreme Court in the 2002 Akshardham terror attack case, Mufti Abdul Qayyum Ahmed Husain Mansuri started writing a book on his eleven-year ordeal in prison. The book in Gujarati was later translated into Urdu and English, and its Hindi translation is under way. The book was released in Delhi as it had faced resistance in Gujarat.
I am Mufti & I am not a terrorist: 11 Years Behind The Bars is an account of the torture he suffered in jail and how he was implicated in the case. Mufti's story begins on August 17, 2003—the day he was "kidnapped through forgery and deceit" by cops from Gujarat's Crime Branch. He then talks of the inhuman ways he was tortured while questioning. Describing one such experience involving D.G. Vanzara, the former deputy inspector general of Gujarat who has been accused in fake encounter cases, he writes: "Vanzara said, 'Call the club (stick) party.' (This club stick party was a group of five to six inhumans, comprising of appalling, uncivilised persons who would rush upon like hungry wolves on the oppressed and helpless people and they used to beat them until they themselves got tired or the victims became unconscious or dead.).... Hence, the club party arrived, whose dreadful faces were enough to frighten me. No sooner they came, they put handcuffs on my hands and one buffalo-like fat oppressor held me down from my waist, another caught hold of both my legs. In spite of my hands fettered in iron chains, two of them caught hold of both my shoulders and stood me facing the wall and V.D. Vanar started hitting me on my back with great inhumanity...."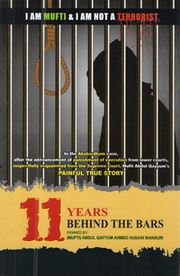 Mufti also recounts how the police tried to kill him in a fake encounter on September 18, 2003. But the book doesn't stop with his experience, it also brings forth his observations—of his fellow inmates, the helplessness of those who have been languishing for years owing to their inability to prove their innocence and the condition of jails. "This is not only my story of torture and pain," he said at the book launch, "rather it is a story of every oppressed and helpless human who is deceived in false cases and thrown behind bars."
I am Mufti & I am Not a Terrorist: 11 Years Behind The Bars
By Mufti Abdul Qayyum Ahmed Husain Mansuri
Published by Jamiat Ulama Ahmedabad/ Jamiat Ulama Maharashtra
Price Rs100; pages 279.