Millions of stories have been written about the mother-child relationship but it is a fact that what a father feels on seeing his child is something equally divine and magical…. No one notices the birth of fathers. Every second, every wail signals two newborns. A baby. A father.
― Ketan Bhagat in Child/God
Ketan says this one's straight from his heart. "The mother's role in raising children is crucial, but so is the father's. I can handle Riyan, my 4-year-old son, as much as my wife can. It doesn't make her any less of a mother. But it does make me a fuller father," he says.
Bengaluru was all set to celebrate Mother's Day when we met Ketan. People were going out of their way to make their moms feel special. Ketan is amused to see this adulation. He says fathers also must be given their due. Ketan, however, admits that fathers in the last generation were just providers. "We still meet men who are unhappy with their fathers, maybe because they were too strict. Our children won't have that problem; they are quite lucky," he says.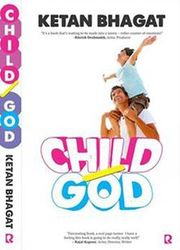 Ketan's debut novel, Complete/Convenient, is now being adapted into a Bollywood movie. Though Child/God was not autobiographical, characters like Raghav and Rishi seem to share a handful of traits with Ketan and his elder brother, Chetan Bhagat, who is now a celebrated writer. Chetan was born genius, he says. "He would always try to do something different," he recalls. "Once, he made tea on a spoon placed over a candle. He just wanted to show how small a tea portion can be. Sometimes, he would get chemicals from the lab and do experiments. But he was never into sports or kite flying."
The admiration is mutual. Ketan received a call from his 'big bro', congratulating him on his new book.
Child/God
By Ketan Bhagat
Published by Rumour Books India
Price Rs299; pages 299.