Ever since the Skoda Superb entered the Indian car market, it has been a hot favourite of those who did not really want to blow big bucks on a German luxury car but were desirous of the features and comforts that came with them. For them, the Czech carmaker's ultra-luxury sedan offered the right blend of luxury, performance and value.
The third-generation Superb is now here and it is a stunner. With the good looks and dynamic performance, it is hotting up the competition not just for the German trio of Mercedes-Benz, BMW and Audi, but also for the likes of Honda Accord and Toyota Camry. The Superb gets a fresh outer design, which, while retaining the Skoda family characters, boasts new lines and contours that add oodles to its appeal. Not convinced? Just take a look at the muscular creases on the bonnet. The headlights and tail lamps, with their jaw-dropping design, will certainly erase any lingering doubt.

This car is all about space. If you're going to be driven around, you will enjoy the leg room. The Superb comes with a longer wheelbase (2,841mm) than its predecessor. But make no mistake, it is behind the wheel where you should be. It is one hell of a beast in terms of performance.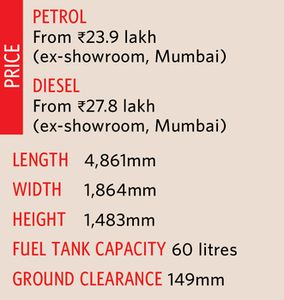 The interiors boast premium leather, wood and plastic. Nothing looks cheap. The well-appointed cabin has a leather-wrapped steering, ambient lighting, a 6.5-inch touchscreen infotainment system and a 12-speaker sound system.
The 4-cylinder, 2.0 TDI (1,968cc) with a 6-speed DSG that I drove delivered 177 PS and 350 Nm of torque. It was sheer delight manoeuvring this beautiful car. The diesel engine was quick and the steering responsive, and the power delivery smooth. At no point did I experience any lag, nor did I get the feeling of driving such a long car (with a kerb weight of 1,565kg) to be a chore. The 17-inch tyres (215/55 R17) demonstrated their road-gripping prowess during the braking test.
If you are drooling over a Mercedes C-Class, BMW 3-Series or an Audi A4, but don't want to spend all that money just because of the price tag that 'premium German engineering' commands, you might want to seriously consider the Skoda Superb. It offers luxury, power and performance just like the German cars at a significantly lower price.