Now, if there is one bike that you want, to make your presence known anywhere just by rolling up, the new Harley-Davidson Fat Boy should do a better job than any other two-wheeler. The Fat Boy has so much road presence that it could be called the Hummer of Harleys. Don't trust me? Just look at the 160 mm wide tyres in the front and that big headlamp, it is sure to scare most who dare to stare. But how does the Fat Boy move?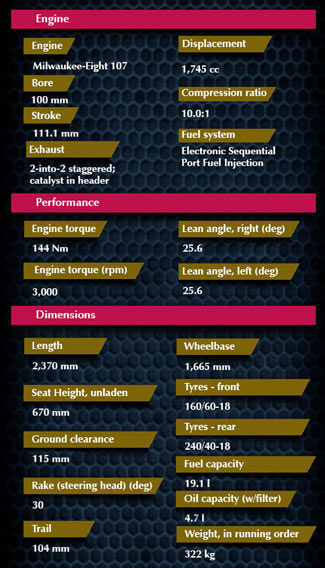 Now, it may belong to the Softail range, but the Fat Boy is the meanest looking of the lot. And the Fat Boy may be the odd man out too. While the other three bikes (Fat Bob, Heritage Classic and Street Bob) are subdued on chrome treatment, the Fat Boy is all about bling. Satin chrome finishes on the dual exhausts, handle bars, headlamp and solid disc Lakester wheels all bring out the shine in the bike. The signature Daybreaker LED headlamp and DRLs sit nicely on the Fat Boy and looks better too when compared to other Softails. The classic headlight nacelle has been updated for the modern times.
One of the attractive features of the Fat Boy is the tyres and their size. The front gets 160 mm wide rubber and the rear gets a more massive 240 mm tyres, both wrapped around 18-inch wheels. The Fat Boy may look the biggest, but it is not the heaviest (Harley Davidson's Heritage Classic owns that honour). But still it is a lot to ride around. The bike is, as the HD guys themselves call it, a steamroller. And you can steam roll for quite a distance as Fat Boy gets a 19.1 litre fuel tank.
As with all the softails, there's a new chassis, new Milwaukee-Eight 107 V-Twin engine and new upgraded suspension. We have already talked a lot about these things and to make things easier, these upgrades has made the bike lighter, stiffer, smooth and better to ride. The Fat Boy has lost about 16 kgs of fat, thanks to the new chassis but the bike still is a lot to handle. The engine's 144 Nm torque does help in handling the bulk, but you have to put a lot of muscle for the bike to change directions, thanks to the fat tyre upfront. ABS comes as standard and stopping the bike isn't a problem. The bike feels planted, obviously, around the corners but the wide floor boards and the overall bulk doesn't allow for a ride that is lively.
Harley-Davidson has given the Fat Boy a modern makeover and made the bike more aggressive. it may not be as nimble as other softails, but the Fat Boy is the bike for those who like to arrive in style.