I went with high hopes to my third Olympics. When I reached Rio on August 7 after a long flight, the Olympic Village was lit up and there was a general sense of excitement with more than 11,000 athletes from 207 countries. It could have been a small nation of sportspersons.
There were three courts for badminton matches and the facilities were world class. I practised on the evening of August 8 and also met Novak Djokovic and Ana Ivanovic at the gym. I shook hands with them and we exchanged pleasantries.
I left the Indian Olympic contingent after an upset loss, and I felt miserable. I had been receiving treatment for a fat pad inflammation of the knee, a week before my departure for Rio. I had won the opening match against Brazil's Lohaynny Vicente on August 11, but the pain in my knee aggravated and the joint was inflamed. I was given a dexamethasone injection to contain the pain. But, even after resting for two days, the pain persisted and you saw me lose 18-21, 19-21 to the world number 61, Ukraine's Maria Ulitina, in the second group match on August 14. I went for the match in pain, yet unafraid of my opponent. But only when I started playing did I realise that I could not lower my body and take certain shots.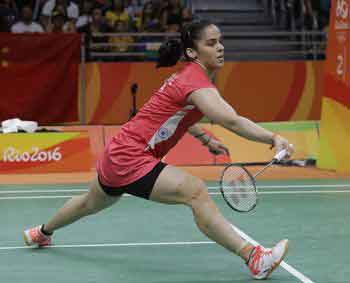 After the defeat, I did not want to stay a day longer. So I got my tickets changed and returned to Hyderabad. It might sound a little desperate, but with my knee pain and the shock defeat, all I wanted to do was come back home and curl up under a sheet. Vimal Kumar sir also returned with me. He finds it unbelievable that I lost to someone ranked 61st, after all the hard work we had put in.
Gopi sir and my other friends were there, but I could not catch up with them, and neither could I discuss this with my other colleagues. In fact, the official physio of the badminton team is well aware of my plight.
You might be wondering why I went to the Olympics if my knee was that bad. The pain in my right knee started occurring only a week before my Rio date. I have never had knee pains earlier and cannot say what the reason is. But now, after an MRI test, I will know the cause.
My knee is now wrapped in bandages and the treatment will be decided only after the scan. Right now, there are no tournaments in sight, so I can take it easy. Of course, getting back will be tough. I will have to be careful about my knee, as I get back to my fitness routine and playing schedule.
I definitely believe that I lost a God-given opportunity. It is still difficult for me to believe that I lost. I am shattered and apologise to my well-wishers and to my country.
Apart from the pain that I am going through, there is pain of the loss and of not winning a medal for my nation. I don't know how long it would take to come out of this phase.