The day of Donald Trump's shocking victory was a day of gloom for me. I scoured newsfeeds and was glued to the television like never before. In between, I scanned emails from my friends in America—it was an outpour of disbelief, grief and anger at what had just happened. One wrote, "I have been in this country for more than 32 years, and have never seen it so divided, perplexed and sombre." Another recounted, "In the subway, I caught the eyes of a young girl sitting across. She looked at me, put her hand to her heart, smiled, and then suddenly burst into tears. I did, too, and so did two or three older women. I noticed a man weeping silently. It was a sad and beautiful moment of humanity."
Hillary Clinton's defeat left parents writing apology letters to their daughters (and sons) for failing them. Little girls, accompanying their mothers to the polling booth, delighted at being part of a historical moment, were heart-broken. The best-qualified candidate of all time lost to the least qualified candidate of all time. This was not just Hillary's loss; we have all lost. Just like millions have felt in America and elsewhere, I feel the defeat, the attack, the insult.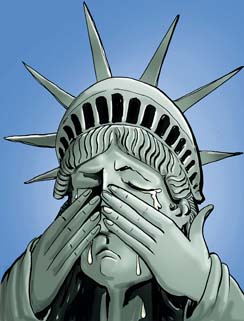 America, like India, is a complex democracy. Misogyny and racist backlash, coupled with fear of immigrants, led to Trump's victory. However, we, the self-proclaimed liberals, must also share the blame and acknowledge our arrogance and the self-righteous disconnect from the pulse of the people. Brexit and other global swings towards ultra-nationalism and anger towards minorities should have warned us. But we were set in our beliefs, so sure that a candidate so racist, misogynistic and xenophobic would never find enough takers. We became complacent, to the extent that magazine covers all over the world were being designed and readied for Madam President.
Nobody saw this coming; least of all liberals. We kept sinking deeper into our carefully curated social media news bubbles, content in our echo chambers. We laughed at Trump, viewing him as a caricature—lewd, pompous and foolish, while his silent supporters marched ahead. Some, of course, were closeted misogynists and racists, while others simply perceived him as their saviour from economic decline.
Now the genie is out of the bottle. Thanks to Trump, today hate has hope. Bigotry and sexism have been legitimised. It is no surprise that the day after the presidential election, hate crimes spiked. Nazi symbols appeared on walls with graffiti like "Make America White Again". Muslim women are already being commanded to remove their hijabs and get out of a country they have been a part of for generations. Men are grabbing women on the street, as if now they have the permission to do so.
Ironically, a surprisingly large number of Indians support Trump, both here and in America. The argument is that, "Trump might well be good for us". If he is not good for America and the world, how can he be good for India? Aren't we all intimately interconnected?
In fact, I feel a deeper sense of purpose. I want to align myself with every person who is suffering and every person who has taken it upon herself to make the world a better place. Hillary Clinton summed it up in her concession speech, "Never stop believing that fighting for what's right is worth it."
We all have to ensure that he doesn't keep all his insane promises that are against women, Jews, Muslims, Mexicans and more. Now is the time we roll up our sleeves and get to work. Toni Morrison, the Nobel laureate and my co-juror in Cannes, wrote, "There is no time for despair, no place for self-pity, no need for silence, no room for fear. We speak, we write. That is how civilisations heal."
Hillary's loss has many hidden lessons for us. It's up to us to heed them.
editor@theweek.in