The quinquennial gathering of the Chinese Communist Party, known as party congress, traces back to the 1980s when Deng Xiaoping restored order and predictability to the political system after the chaos of the Cultural Revolution. It is more about politics than policy—to choose the central committee, the party's policy-making body comprising 376 members, which, in turn, selects the all-powerful standing committee of the politburo.
This year took added interest because almost half the CC members and five of the seven standing committee members are due to retire and as part of the anti-corruption purge, some 40 members of the CC have been punished as well. As of last year, around 10 lakh party members have been investigated on corruption charges and 4,885 officers of the People's Liberation Army, including generals, punished. Some observers see President Xi Jinping's anti-corruption drive as a power grab to eliminate opposition.
Just weeks before the party congress, the axe fell on politburo member Sun Zhengcai, regarded as a contender to succeed Xi. In an extraordinary disclosure last week, a senior Chinese official alleged that Sun was involved in an attempted coup along with five other top leaders. "They had high positions and great power in the party, but they were hugely corrupt and plotted to usurp the party's leadership and seize state power," he said. There is deep-seated opposition to Xi's agenda of market reforms.
China made brilliant progress under Xi's leadership. In the last five years, GDP jumped from $8 trillion to $12.1 trillion; over 60 million people have been lifted above poverty line; incomes have risen; over 13.1 million new jobs were created in 2016 alone; unemployment dropped to 3.95 per cent, the lowest in years. But there are long-standing economic and social issues, caused by three decades of breakneck growth—debt risks, social inequality, regional imbalance, unrest among workers. According to the March 2017 figures by the Chinese parliament, the National People's Congress, one third of China's wealth is owned by the top 1 per cent of households. Xi said in his address to the congress on October 18, "What we now face is the contradiction between unbalanced and inadequate development and the people's ever-growing needs for a better life."
Xi repeatedly stressed the importance of party leadership. Xi's report, laden heavily with Chinese nationalism, presented a breathtaking two-stage plan to create a "beautiful China" and develop "a great modern socialist country" with a world class military by the middle of the century. The triumphalism, justifiable though, needs to be seen against the backdrop of the serious internal challenges and the imperative to rally party cadres. Xi has consolidated his leadership, but a challenging balancing act still lies ahead between the economic and social stability goals.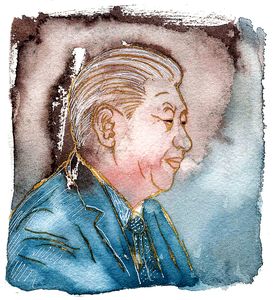 China's rise forms a key template of world peace. What are the signals from the party congress? The bottom line is that China cannot afford to fritter away energies by fighting wars. The communist party's legitimacy ultimately depends on its capacity to fulfil the infinite promises made at the party congress—"socialist modernisation"—to emerge as "a great modern socialist country that is prosperous, strong, democratic, culturally advanced, harmonious, and beautiful" by the centenary year of the communist revolution in 2049. Significantly, at the Congress opening, Xi sat between his predecessors, Jiang Zemin and Hu Jintao, stressing continuity and unity.
However, China's willingness to stand up for itself is not in doubt. Xi said, "No one should expect China to swallow anything that undermines its interests." Clearly, the dialectic involves China's need for a peaceful external environment to tackle the daunting domestic agenda and its ambitious quest to be a global leader stemming from its composite national strength and growing international influence.
Bhadrakumar is a former diplomat.
editor@theweek.in