Last week, I was invited to converse on public art in VR Bengaluru. Why doesn't the concept of public art ever cross our minds when planning a city or developing one? Urban planners and policy makers, sadly, forget about responsible social and cultural values directed by art and design. So, I was more than happy to address that question.
Try to promote public art and people will insist loudly that there are far better things on which to spend money. And, why not just visit a gallery if you are in need of a visual stimulation? But, how many galleries or museums do our cities have? And how many people are welcome there? Aren't they all very elitist? The chief virtue of public art is that it is just there: you do not have to choose to see it or wander to any hushed gallery to find it. At its best, when it works and it is loved in return, it can come to symbolise a place.
Public art is a distinguishing part of our public history and our evolving culture. It reflects and reveals our society, adds meaning to our cities and uniqueness to our communities. Public art humanises the built environment and invigorates public spaces. It provides an intersection between past, present and future, between disciplines, and between ideas. And, most importantly, public art is and should be freely accessible.
Let us look at the city of Florence, a haven of public art. All the great artists you can think of, from Michelangelo to Da Vinci, come from it. And, it is the centre of renaissance art in public places. But that is not all. It has also enough contemporary art like a giant sculpture by Italian artist Giò Pomodoro that honours the great Florentine scientist and astronomer Galileo Galilei. Then there is Mario Ceroli's Silenzio: Ascoltate; Hercules and the Lion by Romano Romanelli.
Places with strong public art expressions break the blandness and the sameness, and give communities a stronger sense of place and identity. We know Agra because of its Taj Mahal, Delhi because of India Gate and Mumbai for its Gateway of India. When we think about memorable places, we think about their icons and monuments.
I would like to bring to your attention a city called Nantes in France. The 20th century left many scars on the city. Firstly, the city's canals and waterways were filled in from 1920s, robbing it of its title as 'the Venice of the west'. Less than two decades later, in 1943, it suffered badly at the hands of allied bombings. In the 1980s, its historic shipbuilding yards closed for good.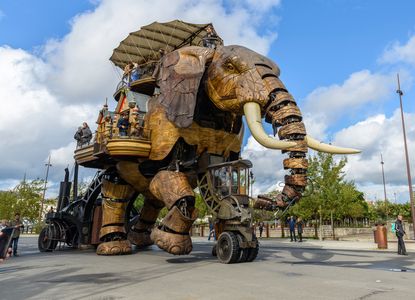 Then came Jean Blaise. The city was culturally dead when he arrived in Nantes to become the artistic director for the city council in the mid-1980s. Blaise, who was determined to transform the city, and Nantes's socialist mayor Jean-Marc Ayrault, did wonders. They had two cardinal rules: events had to be free, and they should take place outdoors or in public spaces. So Nantes, like Florence, has public art all over the city including its street crossings that are permanent geometric patterns called Traverses, created by Aurelien Bory. "If you make people pay for culture, or only offer it in enclosed spaces like theatres or museums, you will only ever reach a small percentage of the population," says Blaise.
Perhaps, most importantly, Blaise has proved that culture can make money. Voyage à Nantes, the city's annual festival, costs around ¤3 million, but the returns come to about ¤48.8 million, thanks to last summer's 6,15,000 visitors (of which 15 per cent were foreigners). When money is well spent, culture is never too expensive.
The important thing to learn is that culture is fundamental for the life of a city, any city. In fact, a city cannot exist without it. The effect of culture is mirrored in the behaviour and taste of the site.
editor@theweek.in