I coined a new word this week—Studiotronics—to capture the hysterical histrionics of studio-bound prime time warriors and the sad and very deliberate descent of daily news into absurd theatre. Over the last few months, on a short sabbatical from the television news space, I have begun to balk at the direction in which much of the electronic media is headed.
But if, in the past, I have often felt exasperated by the formulaic shallowness of its hydra-headed noise—and I must count myself as complicit in not doing enough to develop new and innovative formats—its outbursts of outrage have now become positively dangerous, and often fake and hypocritical.
Take the horrific news of the beheading of two Indian soldiers at the Line of Control by the Pakistan Army and the Lashkar-e-Taiba. That evening, multiple channels invited the most intolerable hate-spewing extremists from across the border as guests on their shows. The studio hosts, many of them famously hyper-nationalist, then huffed and puffed and shouted and screamed; some made big statements of patriotic fury; others ordered the Pakistani invitees to be booted out from the studio. Frankly it all felt like the tawdriest sort of drama. Why were such Pakistani reactionaries given a platform at all on a day when body bags of mutilated soldiers were being ferried back to stoic, yet heartbroken families?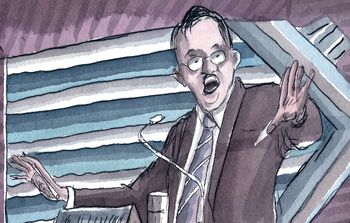 Let me clarify; I would never ask for censorship or blackouts of anyone relevant. I have interviewed scores of Pakistanis myself. I am questioning the motive behind air time for people who are neither newsmakers who can impact the turn of events nor protagonists who can deliver a worthy headline. And no, they aren't the finest foreign policy wonks or most acclaimed writers either. These are quite simply self-parodying Pakistani talking-heads brought to play their part in a script where our TV anchors are increasingly required to be actors more than analysts.
Yes, as Indians, we are all disturbed and angry at the impunity with which the Pakistani military routinely uses terrorism as an instrument of asymmetric war against India. And yes, hard hitting questions need to be raised. But there is zero authenticity in marking that anger through a self-consciously crafted, TRP-oriented confrontation where long-moustached Pakistani generals are paid anything between 150 and 500 dollars to come and perform. Is it not disrespect to the lives lost to construct this artifice in their name? Yet, the more 'nationalist' the channel, the more Pakistani oddballs you will see on it with the most triumphant moment being when the anchor shuts down the guest the network has spent many dollars to get.
This formula of playing extremes off each other and mining outrage for eyeballs is not restricted to the subject of Pakistan alone. The trick of the trade now is to convert the television studio into a veritable circus ring with the anchor playing lion-tamer. It's all built on a gladiatorial, atavistic populism, where hash tags have replaced hard stories—banal at best, very dangerous at worst. Those of us who feel dismay at these trends must also stand up and admit our own unmitigated failure to build an alternative TV model. Well-mannered establishmentarian timidity that emphasises elite pedigree more than roots and reportage is a relic of the past. Blandness is not the answer to bombastic theatre-as-news.
Noam Chomsky, the celebrated linguist and intellectual, had first called out the concept of mass media and 'manufacturing consent'; today, in an inversion, TV news media in India is driven by manufacturing dissent.
Studiotronics is winning; journalism is losing. And we have only ourselves to blame.
editor@theweek.in