To do nothing but believe that the might of the Indian State will wear down the valley's agitators is to quite frankly lose Kashmir.
A few months ago when the Kashmir valley was thrown into a spiral of agitation and unrest, I met a separatist politician considered relatively moderate even by intelligence agencies and backchannel conduits who have long worked covert communication lines to those demanding secession. Burhan Wani, the Hizbul Mujahideen militant, had just been killed in an encounter and the valley had erupted in tumultuous protests. The separatist warned that people like him were losing control of the street. "We are slowly becoming irrelevant to this new generation and won't even have the influence to de-escalate this agitation," he warned. "Please go back and tell Delhi they need to start some dialogue process or soon there will be no one to talk to." What was more chilling was his admission that many of his public pronouncements now deliberately focused on issues of Muslim identity. "I need to speak their language," he told me, "otherwise no one will come to listen to me."
A senior officer who has worked in the counterinsurgency grid for decades told me that this may be one of the biggest shifts in the last few years. "Earlier, Islam was a subset of azaadi; now we are heading towards azaadi becoming a subset of Islam," the police officer analysed. Burhan Wani, who used social media as a weapon of insurgency, underlined this new trend, when in his videos he called for a Caliphate in Kashmir. At a hospital, I met a young, schoolgoing boy who had joined the street marches against Wani's killing. Now he lay strapped to a hospital bed, his eyesight irrevocably damaged in one eye from the injury caused by a pellet gun. What did he see in Wani, I asked the teenager. "He is fighting for Islam," he said, barely able to articulate his words, "Islam and also azaadi."
The question we have to ask ourselves today is how did we get to this point. Even if there is greater radicalisation among young men who have grown up in the shadow of the gun and had a childhood formed almost entirely by curfews, unrest and violence, what is the solution now? To use these voices to smear every Kashmiri Muslim as a treacherous enemy who needs to be crushed with force—like the current discourse on Twitter suggests—is to simply spawn even greater hatred and deepen the already widening gulf between Delhi and Srinagar. To do nothing but believe that the might of the Indian State will wear down the valley's agitators is to quite frankly lose Kashmir. And I don't mean the territory; I mean the people—we have reached a point where we are actually staring down that abyss. And in the name of this rage-fuelled nationalism we are actually letting down the men we claim to defend—our soldiers and security forces. We are forcing them to carry the burden of failed politics.
The truth is there is a dangerous vacuum in Kashmir, one that is now being grabbed by Islamists, reactionaries and even militants and one that should have been filled with politics and an innovative outreach process. The failure in Kashmir today is a failure of imagination. It is a product of denialism by successive governments in Delhi. It is a consequence of several missed opportunities. It is a result of confusing voting percentages with political normalcy so that when the reverse happens, like the abject 2 per cent turnout when repolling took place in several places in Srinagar, we are felled by our own argument. Yes, Kashmiris have often voted in large numbers; political workers have often paid with their lives to take part in the electoral process and yes, 2002 was a watershed election in breaking from a more contentious past of rigged polls. Since then every election has been unfailingly fair, and the low turnout this time is ironically a testimony to the transparency of the democratic process. That, if any, is the only silver lining as grey clouds settle over the once clear-blue mountain skies of the valley. But to mistake crowded hotels, overbooked airlines, beauteous Gulmarg ski slopes and even voter turnout with a normalisation of the situation has been a fatal error. Many of us who have been reporting from Jammu and Kashmir for decades now have always argued that there is a discontent and a disconnect simmering right under the surface and it barely takes a matchstick for the low-simmer to turn into a forest fire.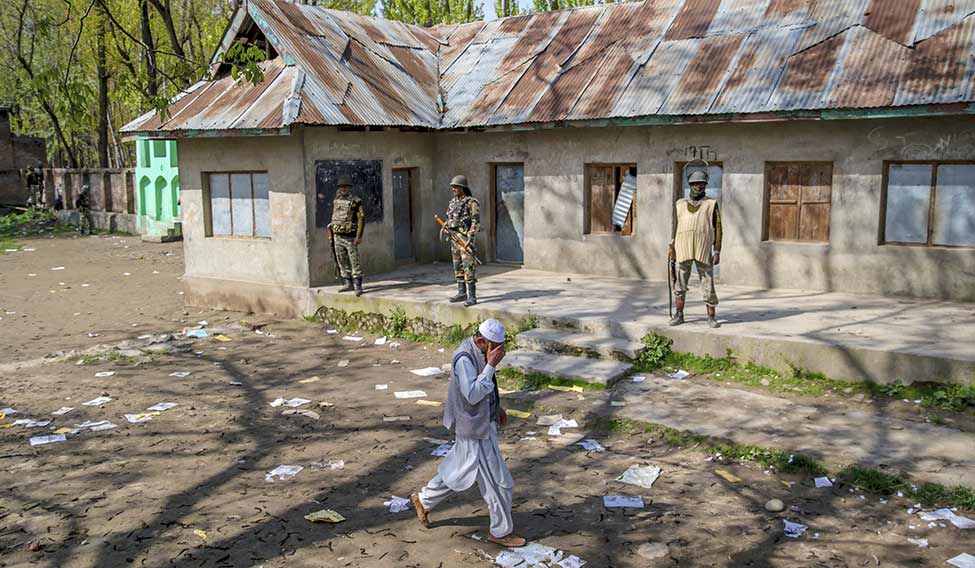 In this past week, we have seen a tragic video vs video battle playing out in the wounded valley. There are horrific pictures of soldiers being heckled, jeered and kicked; there are also videos of civilians being thrashed by soldiers. There are videos of mainstream political workers of the PDP being made to raise anti-India slogans at a militant's gunpoint and there is the absolutely chilling video of a man tied to the front of a military jeep, used as a human shield against stone-pelters. Several retired generals who have served on the ground in conflict zones have condemned the Army making any breach with established norms and rules. But even they have not been spared the label of 'anti-national' on social media. Each video is as disturbing and lays bare the unaddressed fault-lines of Kashmir. But instead of beginning a mature or meaningful public debate or even private conversation through the backchannels, people have begun to shout hostilities at each other in some twisted version of the Patriot Games. It's almost like all our conversations have become some version of a prime-time television war.
And that brings me to what I believe is the most dangerous influence on our national debate around the situation in Kashmir. It is true that the agitators in Kashmir have become much more aggressive and violent than before. I have personally seen women rush towards police posts, snatching away weapons, or crowds come perilously close to armed soldiers, virtually daring them to shoot. But to label an entire population or to see a three-dimensional issue in flat cardboard form is self-defeating. And, for the most part, huffing and puffing television anchors who have spent little to no time on the ground in the valley have done more damage to the idea of India there than anyone else. With their hashtag nationalism and their vitriolic, reductionist screen captions, they have stubbornly declined to look at history, context or complexity. They have made it impossible to have an intelligent, nuanced debate about Kashmir; their oversimplified proclamations are banal at best and dangerous at worst. It's hard to say what has come first in the present environment—the populism of politics or the populism of the mainstream media.
Either way we have reached a crossroads in Kashmir. Every stakeholder must take their share of responsibility and, above all, the rule of law must be restored. Otherwise we are entering a season of turmoil that will leave no one unscathed.