By taking Nitish back despite grave personal differences, Modi has deftly smashed opposition dreams of a grand alliance against him in 2019.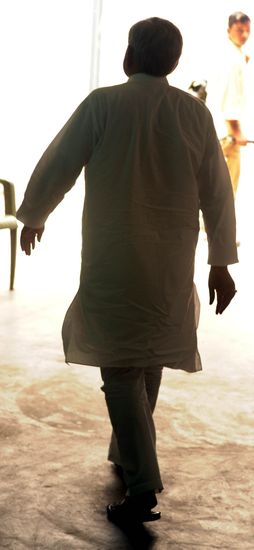 In 2013, Nitish Kumar declared with what has come to be his trademark ambiguity "Kal kya kisne dekha hai? (Who can predict anything about tomorrow?)", when I asked him about rumours that he would walk out of his 17-year-old alliance with the BJP. In an irony that history will remind him of, central among his differences with the National Democratic Alliance was the rise and rise of Narendra Modi, who was then the chief minister of Gujarat. The stories of their personal friction are well documented—a dinner invitation in Patna for BJP leaders was cancelled, and flood relief money offered by Modi was curtly returned after advertisements featuring the two men together were released without Nitish's consent.
In 2017, that moment was dramatically inverted, when Modi welcomed Nitish's decision to break his tenuous alliance with Lalu Prasad over the issue of corruption. The tweet came within an hour of Nitish submitting his resignation to the governor, pointing to a pact that had obviously been worked out over several weeks. Nitish took his allies and even his aides by complete surprise. Several leaders close to him believed that although the gatbandhan with Lalu would break, there could not be a return to the NDA. They said Nitish was well aware that Modi and Amit Shah would never "forgive or forget" their humiliation by Nitish. They were hopeful that Nitish would acquire a moral sheen by taking on Lalu and his son Tejaswi, the deputy chief minister, and then position himself for a plunge into national politics in 2019. There were even murmurs of forging a non-Congress coalition that Maharashtra strongman Sharad Pawar might be deployed to build with Nitish as its face. They were all wrong. Nitish showed that in India's House of Cards, he has always held an unpredictable hand of aces.
The biggest winners are Modi and Shah. The duo has extracted revenge for the defeat in the Bihar elections. It has also shown that when it comes to consolidating his political gains, Modi can be pragmatic and adaptable, instead of being ideological and adamant. By taking Nitish back despite grave personal differences, Modi has deftly smashed opposition dreams of a grand alliance against him in 2019.
While Nitish has outmanoeuvred those who thought they could forecast his next move and ensured his place in the pantheon of politicians who must be taken seriously, this is a zero-sum-game for him in some ways. It appears to reinforce the political status quo instead of delivering a huge advantage to him. He has sought the high moral ground by snapping ties on a principled opposition to corruption. But he will be dubbed an opportunist by his former allies for constantly wavering on his ideological articulations. His qualified support for demonetisation, his support for the NDA presidential candidate, his backing for the United Progressive Alliance's vice presidential candidate—all these paradoxical positions were taken even as he was calling for opposition unity. His principal challenge now is to keep his party together; a significant number of legislators are either Muslim or Yadav and there may be some disquiet among them at abandoning Lalu and embracing the BJP. He also has to carry party veterans and old socialists like Sharad Yadav and others with his decision. And, with this move he has clearly given up on all national and prime ministerial ambitions. The only way he could have retained those was by staying as a challenger to Modi. An alternative route was to sack Tejaswi and challenge Lalu to walk out of the government. The route he has chosen (unless he changes his mind again before 2019) confines his political future to Bihar. That is exactly what Modi would want him to do.
Lalu, who is accused of placing the love for his son over survival and sagacity, is an obvious loser. Unless he is able to bounce back in the next elections, what lies ahead for him and his family, which is accused of acquiring prime property worth crores of rupees for a few lakhs, is a maze of litigation and, perhaps, prison. The Congress must also take responsibility for this mess. Nitish's party repeatedly expressed its exasperation at the lack of a 'narrative' in the opposition camp. Open swipes by Congress leaders at Nitish, too, did not help. But whether because of complacency or incompetence, and despite meetings between Congress vice president Rahul Gandhi and Nitish, the Gandhi family could not keep its allies' house in order. The Congress is now staring at an inalienable truth: all this while it was fighting to take on the BJP, now it is struggling to even play the role of a primary opposition party. It is no longer the pivot around which other anti-BJP parties will organise. That, for the Congress, should be an existential wakeup call.
Finally, for liberal politics in India, this is an important reality check. For years, liberals who opposed the BJP had anointed Nitish as their great hope to take on Modi. But the same chief minister who joined hands with friend-turned-foe-turned friend (and now foe again) Lalu in 2015, in the name of secularism, has today chosen to make corruption the central principle of his political organisation. Of course, at the time Nitish built his peace-pact with Lalu, the RJD leader was already convicted of corruption in a lower court. So, if you believe that Nitish's decision has anything to do with corruption now or secularism back then, you are being delusional. This is realpolitik and to the victor goes the spoils. It is time to recognise that secularism has been bent, compromised and abused as a political slogan by parties across the spectrum. It has been corroded by the ambition of individual leaders and I am not sure there is a party that can claim to be a genuine practitioner of secular politics. Pluralism is a principle liberals must continue to battle for, but secularism as a political construct—and in the way it has been executed—is simply not authentic enough.
Much will happen between now and 2019, but for the foreseeable future, the Modi juggernaut rolls on, flattening all its challengers, along the path to political hegemony.