"No one is born tolerant. Tolerance has to be nurtured in a healthy environment. And that's what my mother provided" - Gurmehar Kaur

"Kill us if you want, do anything. But to call us antinational? I won't accept it" - Rajvinder Kaur, Gurmehar's mother
When Gurmehar Kaur was six years old, her mother took her to buy kitchenware from the crowded utensils bazaar in Saharanpur, Uttar Pradesh. Her father, Captain Mandeep Singh, martyred in a militant attack in north Kashmir just a few days after the close of the Kargil war in 1999, had already been dead for three years. Gurmehar was visiting her maternal grandparents.
Suddenly, taking her unsuspecting mother by shock, the little child grabbed a knife on sale in the market and lunged towards a woman in a burkha. The woman was a stranger but the veil was an irrational trigger for anger and revulsion. "I had come to conflate all things Muslim with Pakistan, such was the rage I carried inside me," Gurmehar told me, visibly shaken at being at the centre of a national controversy.
The young literature student has been threatened with rape, hounded, mocked and mercilessly trolled after an old pro-peace video she made last year resurfaced on social media. A placard she held up in the short film, "Pakistan did not kill my father; war killed him," was isolated and decontextualised from the rest of the video to caricature a young woman's simple idealism.
What most people don't know about Gurmehar is the story of her complex and painful journey from a child who was bitter and filled with hate— "I thought every Islamic symbol, even in my own country, has something to do with Pakistan"—to this moment when she describes herself as a "peace activist." Gurmehar says this childhood notion of subconsciously conflating Muslims with Pakistan and thus seeing both as the 'enemy' came from the prejudiced thoughts and words she heard around her; not in her immediate family, but neighbours, friends, their parents and so on.
And then what happened? I ask her. How did she get to the point where no less than ministers in the Modi government are trolling her for her peacenik advocacy? "Two things," Gurmehar tells me. "My mother spoke a lot to me and helped me make sense of my feelings. And I started to read more books." When she was 13, she read Khalid Hosseini's A Thousand Splendid Suns, which she saw as a book about "women, single women," and it had a transformative impact on her. Like every teenager, she found herself transfixed by the Diary of Anne Frank and horrified by the brutality and legitimisation of mass murders. And like every feminist-in-the making, she wanted to be Jo in Little Women, the rebel who cut off and sold her long hair for 25 dollars to help her family out. These books pulled her mind out of the black and white labels it was trapped by, and the quiet strength of her mother, Rajvinder Kaur, an excise and taxation officer in Punjab, provided Gurmehar an early sense of self-reliance, as also the confidence to challenge the norm. "No one is born tolerant," she tells me. "Tolerance has to be nurtured in a healthy environment. And that's what my mother provided."
Why did you decide to take on the ABVP during the recent student clashes at Ramjas College in Delhi University? I ask Gurmeher. "It's not as if I agree with most things Umar Khalid or Shehla Rashid say," she says, talking of the JNU student leaders who have been accused of raising seditious slogans about Kashmir. "My campaign was against the violence inflicted; many of my friends—most of them girls—were hurt in that." All the attention she has got since then has been "a bit suffocating and overwhelming. I never expected to be a national debate," she says, explaining why she decided to leave Delhi for a few days, even though Lady Shri Ram College, where she studies, has backed her fully. Her deepest frustration is that no one has bothered to see her as a three-dimensional, flesh and blood person with feelings. Even the liberal media that has supported her has created a cardboard cliché of her by staging prime time studio noise rooted in extreme polarities, pitting Gurmehar knowingly against those on the other end, and then being self-congratulatory about the formulaic "fireworks".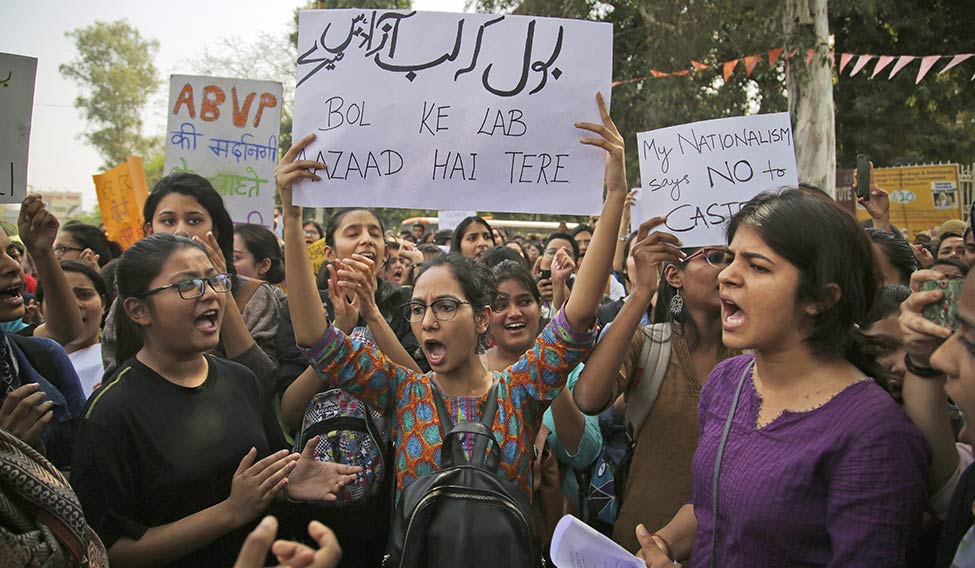 Placed under the microscope, she has even been picked on for saying she's the daughter of a Kargil martyr when her father died ten days later. "Isn't it terrible that I have to justify this," she tells me. "Does it take away from his sacrifice? It says a lot about who we have become. I have this memory in my head where papa is walking in the corridor and he's just returned from the battlefield. I run into his arms and dip my hands into his cargo uniform's jacket pocket and I find sweets. Usually those pockets had ammunition. But around me, they carried only sweets."
Which thinking person is not an optimist at 20, I tell Gurmehar, but isn't she being a simple-minded romantic about Pakistan? Can she really separate the deep state across the border from the terrorists who took her father's life? "I know I look at the world through rose-tinted lenses. It's just how one wants to interpret my message," she argues back, her voice quivering at times and betraying the unforgiving pressure she has been subjected to. "I am a simple girl; I go back to fables and moral science stories to make sense of the world. I really wish if more people did that, the world would be a better place to live in."
The untold hero of Gurmehar's story is Rajvinder, who decided she must bring up her daughter "tough and courageous. I enrolled her in sports and swimming. I wanted her to be independent," says Rajvinder. In school, Rajvinder recalls, Gurmehar was asked to write an essay on, 'If I were a fairy'. Her daughter wrote, "If I were a fairy I would go to Pakistan and rescue Indian prisoners of war. That's the kind of girl she is. Kill us if you want, do anything," says Rajvinder, her voice choking with tears. "But to call us antinational? I won't accept it."