There is an idiom in Hindi—uske daant pet mein hain [his teeth are in his stomach]," quipped a senior BJP leader when asked about what Bihar Chief Minister Nitish Kumar's next move might be. Nitish, he said, likes to keep people guessing and, in the maze-like House of Cards that Indian politics is, almost never reveals his hand, till it is time.
In a week when charges of corruption—financial irregularities in the awarding of contracts for Railways' hotels as well as accusations of benami properties have besieged Lalu Prasad and his son, Deputy Chief Minister Tejashwi Yadav—there was anticipation that the famous Bihar mahagatbandhan that brought the two friends-turned-foes-turned-friends-again together in 2015 might collapse. Especially after Lalu Prasad's party, the Rashtriya Janata Dal, defiantly declared that Tejashwi would not resign.
The unlikely alliance has already been cracked and fractured by growing differences, and the FIR that the CBI filed against the Yadav family for corruption has dragged it to break point. Like always, Nitish Kumar's first response—to the dismay of his ally who may have been looking for public support—was a deliberate and measured silence. When he finally spoke his mind, it was only at a closed meeting of legislators and workers of the Janata Dal (United). Sources said he made it clear that Tejashwi would have to come clean or quit. The charges made him "very uncomfortable", said one party source. That he would much prefer a resignation was obvious in the examples he invoked, according to party sources—his own resignation from the Vajpayee government in 1999 on moral grounds after a train accident or L.K. Advani's resignation from the Lok Sabha in 1996 during the Jain Hawala case.
Aware that his political brand has been built on a reputation for personal probity, Nitish cannot risk being dragged down by the mounting corruption scandals around the Yadav family. On record, Nitish's close aide, diplomat-turned-politician Pavan Varma, said, "It would be in the best interests of both the standards that Nitish Kumar has set for himself and the coalition that the RJD take all necessary steps to clear its name with a point-by-point rebuttal placed in the court of public opinion."
The Lalu camp is sullen and angry with Nitish placing the onus squarely on them. An aide to Tejashwi Yadav retorted, "Nitish won the assembly election because of us. If he goes it alone, he will meet the same fate he did in the Lok Sabha elections of 2014 [the JD(U) managed to win just two of the 40 Lok Sabha seats]." Claiming political vendetta in the investigations by the Enforcement Directorate and the CBI, Tejashwi's lawyers said he was "a juvenile" when his father was the railway minister at the Centre and the hotels contracts (now the subject of the investigation) were awarded. "Or is Nitish planning to return to the BJP?" his aide asked angrily.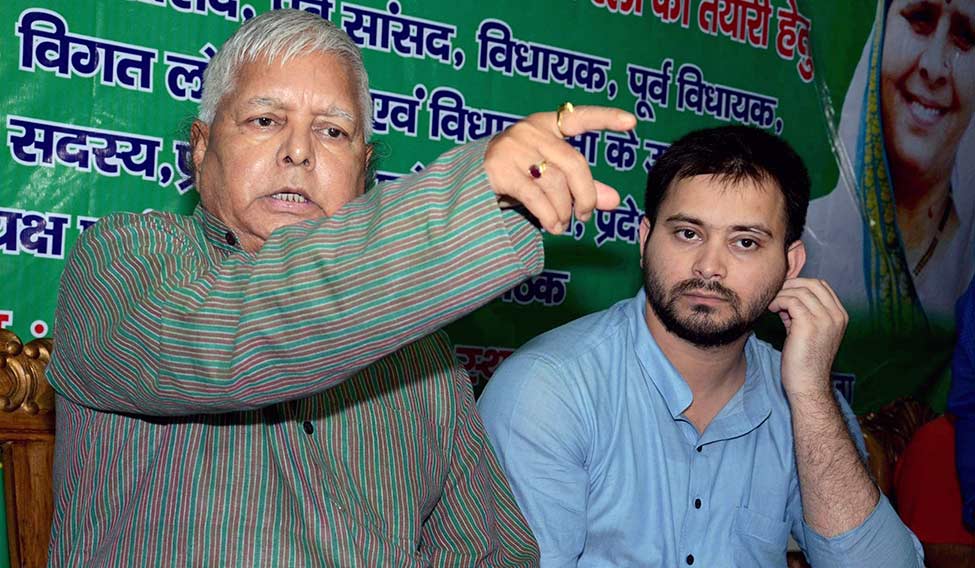 The Bihar chief minister has always scoffed at the suggestion of a ghar wapsi to the National Democratic Alliance. But, from time to time, on key issues, he has broken ranks with other opposition parties, leaving them in a perennial state of anxiety and double-guessing. His support for Ram Nath Kovind, formerly the governor of Bihar and now the presidential candidate of the BJP, drove a sharp wedge through opposition unity. But, he backed the opposition's choice for vice president, Gopalkrishna Gandhi, in a seeming contradiction that is vintage Nitish. His party has called the backing of the NDA candidate a 'one-off' decision and flatly rejected the suggestion that he is hedging his bets or considering any sort of return to the Modi flank.
"He has publicly said that the project of opposition unity needs a far greater investment of energy than it has seen," said Pavan Varma. "We need to build a credible narrative that offers an alternative vision of India. This is what he believes. This needs an organisational framework. You cannot take on the BJP or build a new narrative through ad hoc, sporadic, casual and reactive responses. There have been mistakes in the past, be it in Assam, Jharkhand, Maharashtra or Uttar Pradesh, where the opposition could have organised itself better. That is the biggest challenge." Another opposition leader was less polite: "There is an election coming in Gujarat. Is everyone in the Congress asleep?"
Nitish Kumar is not given to flamboyant outbursts, but his exasperation with the Congress is now becoming evident. That the Congress needs him more than the other way around in the run-up to the next elections in 2019 is clear from the fact that veteran Congressman Ghulam Nabi Azad was made to dial back his criticism of Kumar after he announced his support for Kovind. And it was Rahul Gandhi who had to make a personal effort to reach out to the chief minister. Many believe that if a Bihar-style mahagatbandhan were to emerge on the national level, Nitish Kumar is best poised to lead it. Historian Ramachandra Guha, who once called Nitish Kumar 'India's Barack Obama', told me that Kumar "is a leader without a party and the Congress is a party without a leader. The Gandhi family should exit; Sonia Gandhi should ask Nitish Kumar to become Congress president and lead the party," he proclaimed, admitting that this might well be his "personal fantasy".
Officially, the Bihar chief minister has repeatedly denied ambitions to move from Patna to Delhi, calling himself the "leader of a small party". But the self-deprecation only bolsters the public image, and a party insider said, "As Indian elections become more and more presidential, he is seen as the most credible face, across different parties, to take on Narendra Modi." Would he pitch himself to lead an opposition alliance in 2019? Pavan Varma said the "question of who may lead an opposition gatbandhan is in the womb of the future. The conundrum of who the leader is will be automatically solved once a coherent opposition unity is built. That should be the priority."
Despite the alliance with Lalu Prasad on shaky ground, Nitish Kumar's party has dismissed the offer of outside support from the Bihar BJP unit if he were to split with the RJD. A senior politician in Bihar said, "Nitish has a brand. He is an independent man. Returning to the BJP fold in these circumstances or running a state government with outside support—that is not the sort of government he wants to run." Recounting the bitter fallout between Nitish Kumar and Narendra Modi, this aide said, "Nitish knows that Amit Shah and Narendra Modi will never forgive or forget. They will always remember how Kumar humiliated them in Bihar [when he cancelled a scheduled dinner for them in 2010]. Nitish Kumar is too astute; he is not going to run from one party to the other."
In the choppy waters of political chaos, Nitish Kumar may look like he is trying to sail simultaneously in two boats. In fact, he may quietly be charting his own course for the remaining two-year journey to the 2019 milestone. The importance of being Nitish is that no one, neither the BJP nor the opposition, is able to forecast what Nitish will do next. Still waters, they say, run deep.