In July 2001, just days ahead of the Agra Summit between India and Pakistan, I interviewed Syed Salahuddin, the head of the Kashmiri terrorist group Hizbul Mujahideen. We met in Rawalpindi, home to the headquarters of the Pakistan army, at a nondescript three-bedroom bungalow where the Hizb ran an office as casually and confidently as if it were, let's say, a travel agency. Except, men armed with automatic weapons guarded it and warned us not to train our cameras on their faces, though we were welcome to zoom our lens onto their guns.
Salahuddin, one of Kashmir's most wanted militants, sat behind a small wooden table, and offered us chips and Coke, while holding forth on the upcoming meeting between Prime Minister Vajpayee and President Musharraf. As he alternated between English and Kashmiri, I asked him if the Hizb would put militant activities on hold at least during the talks, so as to not sabotage their outcome. He refused to make any commitment, turning his diatribe on L.K. Advani and his rath yatra. He was more circumspect, even respectful, about Vajpayee, saying he was counting on his "practical nature" to ensure that the talks were successful.
Outside, one of the gunmen chillingly boasted about a gun he had snatched from an army officer in Kashmir, which he had then gifted to "Pir sahib", as Salahuddin was known to his acolytes. Considered a dreaded terrorist in India, he was almost like a state guest in Pakistan.
But, for years, the Hizb, by virtue of being an 'indigenous' militant outfit recruiting Kashmiris who were Indian citizens, had always managed to position itself separately from 'foreign' terror groups like the Lashkar-e-Taiba. With the Americans designating Salahuddin a "global terrorist"—a major win for India and a big snub to Pakistan—it is this distinction that is now over. China will continue to block any real action at international forums against the Hizb, just as it has done with Hafiz Saeed and the Jamaat-ud-Dawa. But there is an important symbolic statement in the American classification.
In a period that has thrown Kashmir into tumult after the young Hizbul terrorist Burhan Wani was eliminated in 2016, this is India getting the thumbs up from the United States for its Kashmir policy. Wani—who never crossed the Line of Control, unlike Salahuddin, preferring to use social media as his weapon—was hailed as a Kashmiri hero and braveheart by Pakistan Prime Minister Nawaz Sharif in his speech at the United Nations last year. The new nomenclature of "global terrorist" for Salahuddin is aimed more at Pakistan and the next generation of young, educated local militants of the Hizb. The message is clear: Kashmiri or not, Indian or Pakistani, there is no difference in the way the Narendra Modi government or, indeed, the US will view you, if you are a member of a terror group. As one diplomat told me, "Pakistan has become like the IIC (India International Centre in Delhi) of the terror world. There are different safe spaces and a board at the top that supervises them all. Whether or not the Hizb hurts western interests directly, the IIC membership or the notion of 'good' and 'bad' terrorists must end."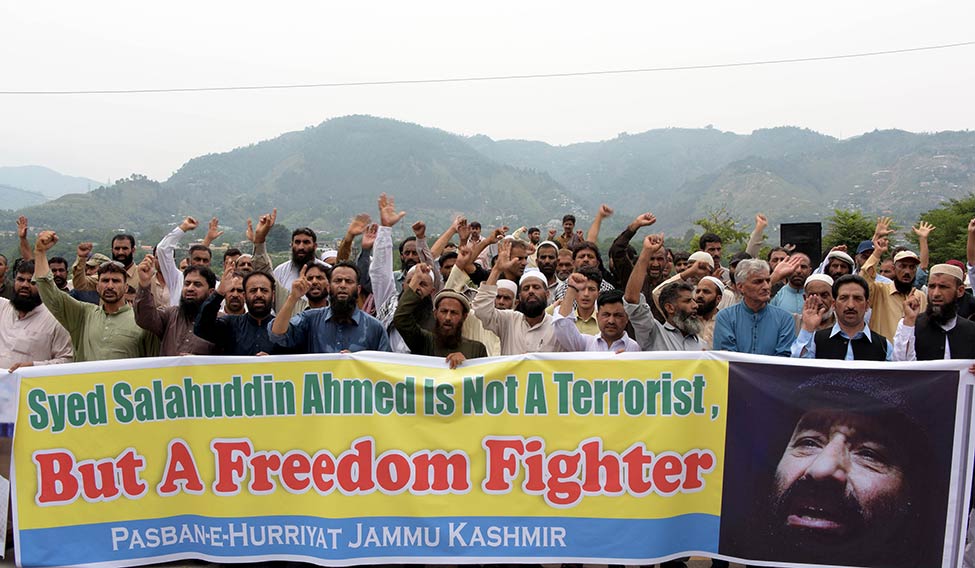 The end of this distinction between 'local' and 'foreign' is a clear departure by Modi from the Vajpayee policy on Kashmir. In 2000, the Vajpayee government even opened talks with a faction of the Hizb, in full gaze of cameras at Srinagar's Nehru Guest House. The talks were led by home secretary Kamal Pande, and, as a reporter, I witnessed the moment personally, when militants posed for photographs with government representatives, their faces masked by giant-sized kerchiefs. Indian sleuths were in regular touch with the Hizb and its mediators to make this happen. Former Research and Analysis Wing chief A.S. Dulat has written about how Indian intelligence agencies would have been able to bring Salahuddin back to Kashmir, where his family still lives. He has even suggested that Salahuddin reached out to the Intelligence Bureau representative in Srinagar to get his son admitted to a medical college (both parties deny this). Today, as the Kashmiri Hizb is officially bracketed with the Pakistani Lashkar, and Salahuddin is clubbed with Hafiz Saeed on the ground that both terror groups have coordinated attacks, the Modi government will not treat one differently from the other. It is a significant shift in India's Kashmir policy that must not be underestimated.
Salahuddin is only a symbol of the shift, but his story marks a milestone for India's own volatile Kashmir journey. In the 1987 elections that were not quite free and fair, Salahuddin was not a terrorist, but a believer in the democratic process; he contested elections from Srinagar's Amira Kadal constituency, aided by a polling agent called Yasin Malik, who would go on to become a hardened separatist. They fought on the ticket of the newly-minted Muslim United Front, backed by the Jamaat-e-Islami. Many years later, Mufti Mohammed Sayeed would form the PDP (currently in alliance with the BJP) with the same green flag and pen-inkpot symbol as the MUF. In the many what ifs of Kashmir's history, one that stands out is, what if those elections had not been rigged?
But if India has some sins of omission and commission in its handling of Kashmir, Salahuddin's embrace of the gun and jihadist groups like the Lashkar (responsible for the 26/11 Mumbai attacks, among others) was also the beginning of the deep moral erosion of the legitimacy of the Kashmir issue.
The violence and terror unleashed by groups like the Hizb in Kashmir have not spared civilians, including journalists. I remember, being among the media people who had the narrowest of escapes in a car bomb attack in Srinagar that appeared to be a booby trap for journalists. It was in August 2000, and Salahuddin had just called off a temporary ceasefire. A grenade went off in Srinagar and all of us rushed towards the city's Residency Road, chasing the direction of the sound. But as we gathered, a larger explosive, planted in a car, was remotely triggered. My colleague, Pradeep Bhatia died in front of my eyes. I recall dragging out other injured colleagues from under the smashed debris of the car, fighting back my fear, horror and tears.
That Salahuddin's children never joined militancy—four of them, ironically, are government employees—has raised more questions about why they should be able to experience 'normalcy', while teenagers are in the line of fire, locked into violent and self-destructive clashes with security forces. Last year, one of his sons, an employee at the Entrepreneurship Development Institute, was saved by security personnel during an encounter with Lashkar terrorists. These are the many untold and astounding ironies of our Kashmir story.