Indian parliamentarians recently travelled to Pakistan for a conference of legislators. Talks were held by both countries on the Indus Waters Treaty.
Across the border, in the drawing rooms of Lahore and Islamabad, the bitterest critics of Nawaz Sharif have begun to admit that the prime minister of Pakistan is the "great survivor" who has deftly ducked every attempt to oust him from political office. Every few months, what begins as a whisper of his enforced exit soon rises to a crescendo of wagers on how the 'Establishment' has wrung out the authority from Nawaz's position, only to discover that the ebullient politician has outmanoeuvred all the doomsday declarations. This month, too, whether at weddings or funerals, the conversation veers around to just one question: will Nawaz outlast the 'Panama papers' controversy in which three of his children have been charged with holding undeclared family wealth in offshore accounts—allegations they have denied. Pakistan's supreme court is expected to deliver a verdict later this month and no one believes that this is a mundane debate about corruption alone. In the jousting between the civilian and military power centres in the country's nascent democracy, this is less about a collision between Nawaz Sharif and Imran Khan—Khan is one of the petitioners in court—and more about the shadow-boxing between Pakistan's Deep State and its elected leaders.
So, is Pakistan really post-coup? No, not if Nawaz is forced out before the next election, say those close to him. Yes, if this elected civilian government is able to complete its term and survive till 2018. Then, Pakistan can mark a ten-year democracy milestone; in 2013 the Asif Ali Zardari-led civilian government was the first in the country's history to complete its five years in office.
Or is it that the nature of coups has changed? Has the Pakistan army understood that it is smarter to run governments from the wings, with whispered instructions that travel fast through the shadows, than in full public view on stage? Has it discovered that a cunning assertion of power is more effective than brute force and that it is wiser to pit civilian against civilian, not in the gladiatorial arena of elections; but by using proxies to fight its domestic battles, just as it has in its multiple assaults on India? No matter what they think of Nawaz, most people in Pakistan agree that the 'Panama papers' ammunition is being used to weaponise the prime minister's political opponents and that the soldiers on the frontline of the attack against him are surrogates taking their orders from underground war rooms that still wield absolute control. In other words, Pakistan is not post-coup because the military has been sent back to the barracks; but because it is a military democracy where its army has calculated that executing power by stealth instead of force is much better for the image.
For us here, the question is what Nawaz's survival (or not) will mean for the India-Pakistan equation. Much will depend on the relationship that emerges between Nawaz and his army chief, General Qamar Jawed Bajwa. When Bajwa, an officer of the Baloch regiment, who was described by former Indian Army chief General Bikram Singh (Bajwa served under Singh during a UN mission) to be a "professional soldier", was appointed, there were hopes, both in Pakistan and India, that Nawaz was reasserting civilian control over the power structure. Bajwa's predecessor Raheel Sharif had virtually locked the Pakistan prime minister into a silo of administrative and economic duties, while wresting all decisions related to foreign policy and national security. Raheel's anti-Taliban crackdown in northern Pakistan and his securing of Karachi gave him mass appeal. It also provided enough cover to not act against groups like the Lashkar-e-Taiba which are threats to India, but considered strategic assets by the Pakistan army. He was routinely polled as more popular than both Nawaz and Imran Khan, his posters surfaced on the back of trucks and he became the rock-star general who ruled Pakistan without a coup and diminished the authority of the elected prime minister without ever having to officially 'take over'.
The terror attack on an Indian Army unit in Uri in Jammu and Kashmir may well have its origins in these fault lines; the threat of military conflict with India keeps the Pakistani army perennially powerful domestically and was a reminder to Nawaz to abandon any plans of a détente with Delhi. At the time the prime minister indicated to colleagues that whatever was happening was against his wishes, but was out of his hands. As India retaliated with surgical strikes across the Line of Control, the mounting tensions were the perfect springboard for Raheel to get an extension as all army chiefs before him had. It is at this moment that Nawaz seems to have skilfully bounced back into the game. His supporters say Raheel was keen to stay on for a second term and it was conveyed indirectly to Nawaz that the full fury of the 'Panama papers' protests would be unleashed as a consequence of not deferring to the military. One source says Nawaz was "willing to pack up and go home" instead of surrendering to these threats. In a deft management of the crisis, Nawaz encouraged Raheel to accept Saudi Arabia's request to him to lead a coalition of Muslim countries against terrorism. He thus became the first military chief to not seek an extension in two decades.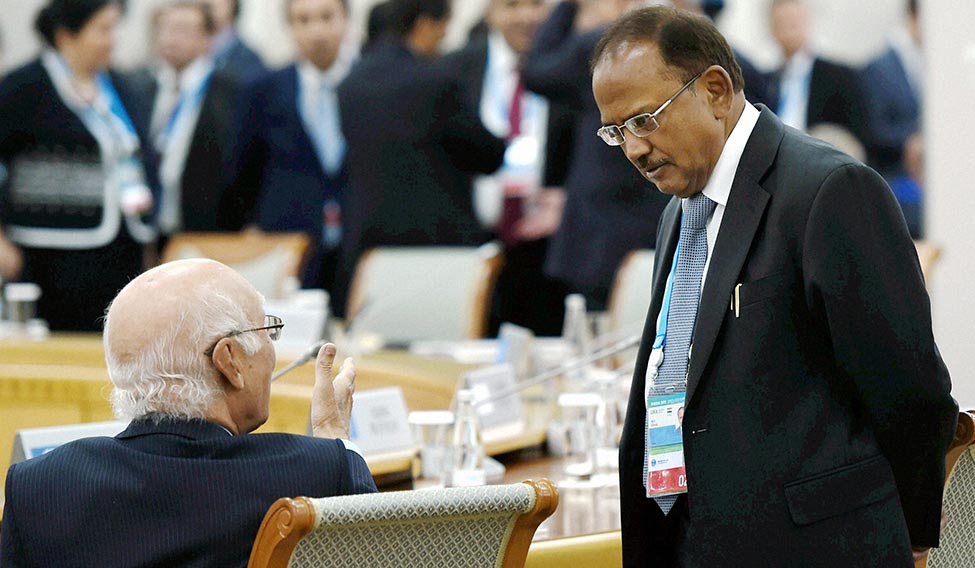 With Bajwa in the seat, Nawaz might be feeling a little more optimistic and empowered about reclaiming foreign policy and reviving the stalled dialogue process. Sources say the relative quiet on the LoC—after weeks of grave violations—is not because of the changing weather alone. There are murmurs of a backchannel having opened up again between the two countries. India's national security adviser Ajit Doval and his Pakistani counterpart Nasir Janjua who previously met in Bangkok under the radar in 2015 are reported to have a renewed line of direct contact. There are other small and tentative signs of a thaw as well. Indian parliamentarians recently travelled to Pakistan for a conference of legislators. Talks were held by both countries on the Indus Waters Treaty, although without success. The government's cultural body, the Indian Council for Cultural Relations, sponsored the travel of some authors to the Karachi Literature Festival. And Hafiz Saeed, the perpetrator of the 26/11 terror attacks, is under house arrest; perhaps in anticipation of renewed American pressure.
Many factors could still trip up even these incremental steps. With byelections around the corner, militant attacks in the Kashmir valley have surged in the past week. A big strike would naturally take both countries back to the drawing board. In Pakistan, a sudden meeting between the army chief and Imran Khan has raised multiple eyebrows. And Nawaz has one last hurdle to cross domestically at a time when an adverse court verdict on the 'Panama papers' case could change everything. Yet, among the current crop, he remains the strongest and best-liked civilian leader in Pakistan, poised to win a second term if his government is allowed to last that long.
In June this year, Narendra Modi and Nawaz Sharif will be in attendance at the Shanghai Cooperation Organisation summit. If the Panama clouds lift, Astana, Kazakhstan, could be where the India-Pakistan freeze gets a bit of warmth.