After I moved to Bengaluru at the age of eight, my mother used to take my sister and me to the Kanteerava Stadium, which was a few minutes away from home. I took to the stadium like fish to water. Mohinder Singh, a tall, well-built coach noticed my sister and me running and encouraged us by giving us Nutrine candies. One candy for every round we ran. Thus started our careers in athletics. We made our mark at school sports days and interschool championships. These meets were no less exciting than any world championship! Such was the fierce rivalry among schools. Which team would take the "Best School" honour? Who would be the "Athlete of the Meet"? There was pride in all that. Teams from schools close to the stadium would walk a couple of kilometres in their uniforms to draw the attention of the public. Heads of institutions, teachers, and hundreds of cheerleaders would occupy their place in the stadium. Everybody knew where to sit without anyone telling them. Future champions were born here.
Fast forward to today. Interschool athletics championships are all but dead in our country. In Bengaluru, in the early part of the last decade, an interschool athletics championship used to be held under the aegis of the Bengaluru Sports Club. More than a hundred schools used to participate each year. After a few years, it did gain momentum but it suffered from the basic lack of follow-up. What happens when talent gets unearthed? What are the next steps to develop the talent? Well, after ten years, the championship died.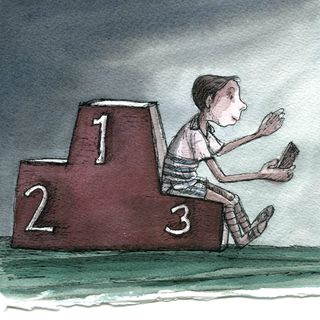 After the Rio Olympics, I met Usain Bolt in Bengaluru and asked him why Jamaica was consistently producing sprint champions. He put it down to a thriving culture of sport, especially athletics, at the school level. In fact, he was first noticed as a 15-year old at the national school championships.
Several factors have come together to bring us to this unfortunate situation where thousands of potential athletes are lost each year. I have outlined several of them in my previous columns. I shall not repeat the issues of governance and structure. However, I believe they are just the symptoms of a deeper problem.
Our education system has killed the love for sport. Sport in schools today ends at physical education. The overemphasis on the development of the mental faculties, by both parents and educators, has made the development of our physical capabilities an afterthought and a necessary 'evil'. Getting a secure job and earning a living that allows for a life of material comforts have become the central focus of our education system. Therefore, getting 'good marks' and accumulating knowledge as prescribed in the syllabus have become the sum total of education for most parents, who in turn pressurise the school administrators to deliver that. Recently, there has been a move to give importance to sport through the Sports for Marks campaign. Surely it cannot instil the love for sport. In fact, it will hasten the demise of whatever interest remains in sport. Instilling a love for something cannot be mandated.
What has made the situation far worse is the virtualisation of our living, thanks to the ubiquitous technology that has invaded our lives. Our children would rather play virtual games than be on a field. Mobile applications for learning and games are exploding, and children are getting addicted to that world. Is it possible to instil a love for sport in the face of these challenges? For the last 14 years, along with my husband, I have been attempting just that. In my next column, I will elaborate on that interesting experiment.