Nobody is above the law. It applies in equal measure to all. But, in our country, this is far from that fact. Individuals and organisations routinely flout, manipulate, coerce and in some cases, act as if they are higher than the highest court of law. Last year, the Supreme Court appointed the Committee of Administrators (CoA) to oversee the errant and arrogant BCCI. Unfortunately, even this court has not been able to rein in the BCCI. Might is right. Law of the jungle, and not of the land, is what the BCCI operates on.
The latest in an ongoing battle between WADA—World Anti-Doping Agency—and the BCCI, has brought this to a crisis point. WADA has threatened to disaffiliate NADA—National Anti Doping Agency—over their inability to test the cricketers. The BCCI has refused to grant NADA access to its players stating that, the Indian cricketers feel it is an invasion of privacy to provide information on a one-hour window, on any given day, for random testing. Such arrogance! The world's greatest sportspeople with far more following and status—Usain Bolt, Roger Federer, Lionel Messi and Cristiano Ronaldo—adhere to this. So, what is special about our cricketers? It does not matter if you are Virat Kohli, M.S. Dhoni, or any other big one, the law should apply to them in equal measure. And, while ICC is a signatory to WADA, the BCCI does not want to come under NADA. So, ICC, the parent of the BCCI, made a special amendment a few years back (I suspect when one of our kind was in charge there) to exempt Indian cricketers from being tested under WADA! Imagine the power that the BCCI wields—it can twist the arms of its parent organisation to do its bidding! Today, our cricketers get tested by a private agency in Europe which is paid by the BCCI. What a joke.
Doping is one of India's biggest hurdles to create a strong sporting nation. Time and again, our athletes across varied disciplines have been caught and banned. WADA places us as the world's third worst offender. In such a scenario it is imperative that we do all we can to control, and if possible, snuff out this menace. This crisis is exactly what is needed to comprehensively address doping and at the same time bring the BCCI to ground.
NADA needs to be strengthened and given more teeth. Currently, it is ill-equipped in terms of organisational capacity, to test a whole nation of sportspeople. Many cases are pending and, to make matters worse, the blatant abuse of power to change test results was recently exposed.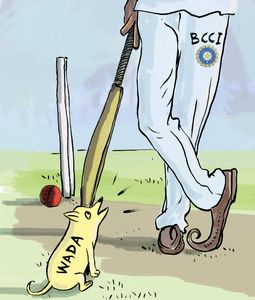 This is a terrific opportunity for the BCCI to act like a statesman and accept the jurisdiction of NADA. In fact, the BCCI should play the leadership role and be a beacon for how a federation ought to be governed. Sadly though, the BCCI is a world unto itself. A world dominated by politicians and bureaucrats, and dovetailed seamlessly into the lucrative and private world of industry for the personal gain of both administrators and players. They think they are bigger than the nation and can do as they please. All this makes them the quintessential anti-national bully.
The only way the BCCI can be reined in is through the National Sports Law (languishing since 2011) and the anti-doping bill (still being drafted), that will, among other things, ensure that all sporting bodies, federation or not, will come under their purview. NADA will then be the official agency that will have full access to these and any other sporting organisations.
It is individuals who fight for and usher in change. This is a wonderful opportunity for Union Sports Minister Rajyavardhan Singh Rathore to show his mettle, be fixed on the target and make it happen. It is possible.
Ashwini Nachappa is a former athlete.