The whole journey started in the late 1970s, when the boom was beginning in the Middle East. Oman, Dubai, Bahrain and Qatar were starting to develop, thanks to the oil fields. Indians soon started to move to these places for exploring business and job opportunities. The Taj Group got some of the management contracts and I was deputed to be the head chef at the royal guest palace in Oman.
It was a strange new place for me. The language, culture and the cuisine were quite different, but the people were very nice and hospitable. That was the reason why I could stay there for many years and get used to the cuisine and the culture of Oman, a country with a strikingly beautiful countryside, especially in the south.
The first thing I wanted to learn when I was in Oman was its local cuisine as it was very flavourful and was quite different from the cuisines of other countries in the Middle East. The local produce was unique. Lemon dates, watermelons and a few vegetables were grown locally. Fish was plentiful and the local lobsters were known for their unique taste. I took the help of some locals and went to their homes to learn how to cook oozi (whole lamb cooked underground), machbous (lamb and rice cooked together) and samak makli (spiced fish), which were some of the local favourites.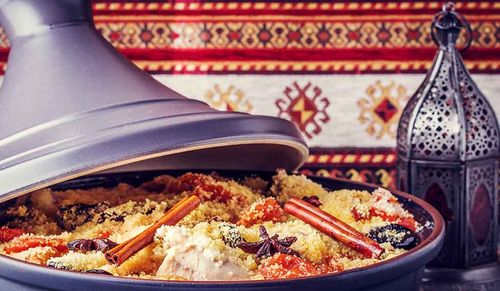 From Oman, I started travelling to Dubai, Bahrain, Iran and Qatar to learn their cuisine as the rulers of most Gulf countries used to visit Oman frequently and we had to appeal to their taste buds. Iran was already a developed country and Dubai was emerging. For mezze and the grills, Lebanon was a heavenly destination. It was called the Paris of the Middle East. I picked up flavourful mezze from there and the grills from Syria as we could go to Syria by road.
By then, I had a fair knowledge of the cuisine and could delight most of the dignitaries. In fact, president Hosni Mubarak of Egypt, the shah of Iran, king Hussein of Jordan and the heads of various countries were all very happy with our products. It was such a delight to please those people who had everything at their disposal. The cuisine of the Middle East is so refreshing and one can never be bored because of the variety of herbs, spices and flavours.
This was the main reason that when I took charge of the cuisine at Taj Mumbai, I decided to introduce Middle Eastern flavours to Mumbai. That was how we opened the Souk restaurant. It has been throwing up unique innovations consistently and I must thank the cuisine team for its contributions. It has ample number of dishes for vegetarians, too, which has always been my philosophy for Mumbai.
And, of course, I will continue with my adventures and innovations with food.