I was very happy and honoured to lend my name and music to the cause of restoring vision to millions who are affected by treatable cataract blindness. In these troubled times, art and artists must lead the way to bring people together to be the voice of wisdom, compassion and hope. HelpMeSee is a global campaign to end cataract blindness, the leading cause of blindness worldwide. It intends to make the sight-restoring surgery available to millions of poor people through scaling training of cataract surgeons recruited from within their communities and financial support. HelpMeSee is pioneering a virtual reality surgical simulator and training programme to be implemented worldwide, and has been adapted from extensive experience in simulator-based aviation training. I attended an event in New York recently where they announced their flagship concert that will take place at the monumental Carnegie Hall in New York next year.
I was back in New York performing at the beautiful Metropolitan Museum of Art's Grace Rainey Rodgers Auditorium. I was given a tour of the instrument collection at the museum the very last day, before it closed for renovation for a year. I was so moved and impressed to see the collection, especially the profound respect and care given to these instruments that is so very important. I hope that I am able to exhibit the instruments that are showcased at my museum in Gwalior one day. It makes such a difference to see an instrument that was part of a performance by a great master. The power and the vibration of the instruments would give goosebumps to any music lover.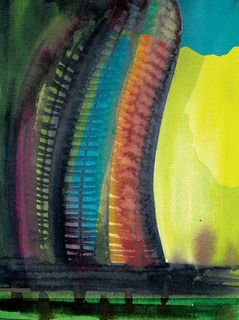 New York holds a very special place in my heart, and my association with this city goes back nearly 53 years. I went on my first US tour in 1963. Today, I feel so happy to see the awareness and love that Indian music has generated over the period of time, especially in this part of the world.
The most interesting aspect of Indian classical music is that you have four or five people on stage, who don't know what the other is going to do and yet have to perform like a rehearsed orchestra. Therefore, as performers, we play three roles, that of a performer, composer and conductor. Three in one!
I feel very hesitant and embarrassed to say that I have composed ragas. A new raga is like a newborn. A raga for me is not just a mere scale. It is much more than that, perhaps like a living identity. When a child is conceived, in this case a raga is invoked, how can you not accept it? The raga would ask me "Do you know me?" and I would say "I don't." Then, I would give it a name and hence the raga would become mine, just like my own offspring.
Many might find it amusing, but I have woken up on several occasions after finding an answer to my musical doubts in my dreams. As an artist, my mind works 24/7 around music. I would like to believe that the motivation for this is spiritual. I feel that certain ragas cannot be explained through notation only. Since ours is an oral tradition, one needs to understand the character of each raga and its mood. A simple notation does not manage to capture a raga's essence. It is the character of Indian classical music, where two plus two is not always four.