In August 2010, Austrian mountaineer Gerlinde Kaltenbrunner stood in the infamous Bottleneck couloir on Mount K2, just 400 metres below the summit. But she could not continue climbing. Not because her body gave out, but because she was in shock. Her climbing partner, Swedish alpinist Fredrik Ericsson, had just fallen past her to his death. He had slipped, when unroped, while fixing a rope ahead of Kaltenbrunner. She aborted her summit attempt. It was the sixth time she had failed to conquer K2.
She returned a year later, and this time took the extremely difficult North Pillar route to avoid the Bottleneck where her friend died. After 45 days of climbing, which included scaling up a death zone (high altitude, usually above 8,000 metres, where there is not enough oxygen) with fierce winds and temperatures around minus 40 degree Celsius, Kaltenbrunner finally summited the K2 on August 23, 2011.
She finished her climb one step at a time in chest-deep snow with no porters to help carry the 17kg backpack. As she soaked in the sunlight at the top of the 8,611-metre mountain, the second highest in the world after Everest, she found herself surrounded by a breathtaking view—the other 13 eight-thousanders that she had conquered. Kaltenbrunner is the only woman to have scaled all the fourteen 8,000-metre peaks in the world without the help of supplementary oxygen and porters.
The alpinist refers to her feat as "an inner calling that had to be answered". Kaltenbrunner recently addressed an audience of over 600 adventure enthusiasts from across India in Mumbai. She took them through her journey with an audio-visual presentation that recounted nail-biting moments atop K2, considered the most difficult mountain to climb because of extremely inhospitable conditions—it kills roughly one out of four climbers who attempt to summit. "K2 is always in extreme conditions, but its beauty lures me," she said. "It got into my head ever since I first saw it and I've read a lot about it and know it well. That said, I respect it way too much."
Kaltenbrunner reached the summit with four others—Maxut Zhumayev, 34, and Vassiliy Pivtsov, 36, from Kazakhstan who were making their sixth and seventh attempts, respectively; Dariusz Załuski, 52, from Poland, in his third attempt and Tommy Heinrich, 49, from Argentina. Her then husband, German mountaineer Ralf Dujmovits (who was the 16th person to climb all the 8,000-metre mountains and had reached the top of K2 on his first try in July 1994), called it quits about three-quarters of the way up and left for the base camp. "He suddenly said he was going back," said Kaltenbrunner. "It was a very difficult moment for both of us. If we turned back and waited, the new snow would be too much to get any higher on the mountain. But my gut feel was good and I continued."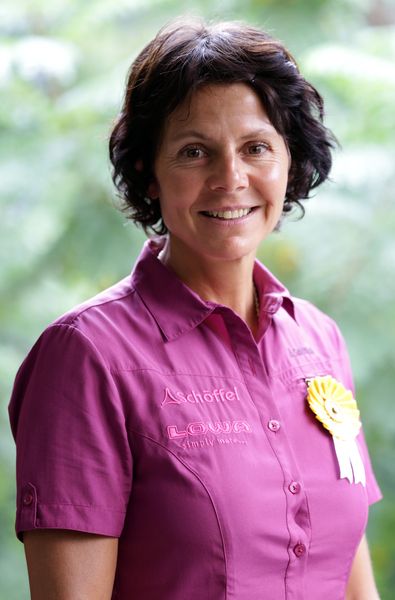 She said that they used thousands of feet of rope to make their way through rock and ice. "And many times, on avalanche-raked slopes we would break trail alternately in heavy snow, set up our tents in the narrowest of spaces available on snowy ridges. Sometimes, we couldn't even stretch. Our fingers and toes would go numb in seconds. But we were all immensely tolerant since we had one huge common goal, which we could only reach together."
A nurse from Austria, Kaltenbrunner has always pushed herself to test her limits. "When a mountain beckons, how can I not go?" she said with a grin. "I'm always energetic. I guess I gain that energy from the mountains. It's a love affair I have with them. I'm never too tired of climbing a mountain." Her interest in mountain climbing developed at a very young age. It was the reverend Dr Erich Tischler, a youth group leader in her hometown of Spital am Pyhrn, Upper Austria, who introduced her to the fascinating world of mountains. At 23, she climbed the fore summit of Broad Peak in Pakistan, which is at a height of 8,027m. It was only after she climbed the Nanga Parbat, her fifth 8,000-metre peak, in 2003, that she decided to finally become a professional mountain climber. "Mountains are my world. Climbing is the only thing I've ever known well and I will continue to climb for as long as I can," said Kaltenbrunner who, at 47, looks fit as a fiddle.
She carries with her a backpack weighing 17kg during each of her climbs. It is spacious enough to carry a foldable tent, a gas stove, stands, bedding, and a lot of other paraphernalia, including dozens of canned food packs. "If my baggage goes even 500 grams over 17kg, I immediately know it and shed off a few things," she said. "I learned it through experience and now I'm a pro." Earlier she would take hours, sometimes days on end, to sort out her backpack, but now "it's only a matter of minutes".
She has been self-funding her summits since the beginning. "I put all the money I earned as a nurse into different trekking and climbing expeditions to the Himalayas. You cannot expect sponsorships until you prove your worth in every way. Also, I have no luxuries or fancies other than mountain climbing. I'm lucky that way," she said matter-of-factly.
Once the ascend begins, there is no looking back. Each summit requires foolproof planning at the base. "I make sure to plan meticulously so as to not miss out on any single item I may need on my way up." Yet, basics such as drinking water are exhaustible. "When on the mountain, we melt snow and drink it since it is not possible to pack in litres and litres of water."
But to be as active and ambitious as her, requires fitness of a different level altogether. "Over the years I have prepared myself through tough endurance training, including skiing, running, mountain biking and of course, practising yoga on a daily basis," she said.
Talking about her divorce with Dujmovits, she said that they are still good friends.
"We had several intense moments on the mountains," said Kaltenbrunner, who was the National Geographic's Explorer of the Year in 2012. She has captured her thoughts on mountaineering in her 2014 memoir Mountains in My Heart.
Now residing in Black Forest, Germany, she continues to climb. "If you have the mountains in your heart," she said, "you'll never hang up your crampons."